The Roxy Regional Theatre is currently staging their adaptation of Frank Wildhorn's Dracula the Musical as their Halloween production. The show is loosely based on the 1897 horror novel by Bram Stoker, and is directed by Tom Thayer.
The music is the first thing to come to mind when thinking about this show. There are 27 songs that comprise the production. The actors sing each number with power and feeling. This musical is chock full of dark subject matter, and the songs contain just enough humor to keep it from being overwhelming. Stand out numbers include Whitby Bay, The Master's Song, Man of Woman Born, and It's over.
The casting again is just about perfect. Justin Barnum has been a standout actor and a great singer since I first saw him in Miss Saigon. In Dracula he successfully brings the undead to life. Van Helsing is a man with a problem, he played by Keith Patrick McCoy who is an intense young man with a booming voice. Renfield (Ryan Dawley), Dracula's minion is in an insane asylum, yet he is nonetheless a major element in the show.
The Vampire Girls (Lisa MacAfee, Lia Sumerano, Kendall Anne Thompson) with their haunting vocals are charged with setting the atmosphere for the performance. At times they were downright unearthly. One of the Vampire girls who was killed at the opening of the show, was in love with Van Helsing, setting him on his collision course with Dracula.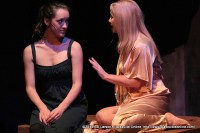 The women who drive the show are Mina Murray (Joanna Carpenter) who is Jonathan Harker's fiance, and Lucy Westenra (Laura Lynne Tapper) Mina's best friend, Lucy is being courted by three young men (Nate Washburn, Travis Kendrick, and Michael Hadary), and after she is taken by Dracula that leads them to join forces with Van Helsing to hunt him down.
I loved the set, it easily morphed from a luxurious castle to an insane asylum, to a train car, each time providing the ability for Dracula to rise above the action. The set was enhanced by the lighting which was done in vivid colors and various textures including the use of moving video projected on an opaque screen at the start of the show.
Tom Thayer and Thad Wallus join forces once again to provide the musical accompaniment which easily shifts from soaring emotional highs to subtle sensual moments.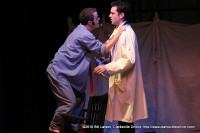 While Dracula the Musical retains the dark character of Bram Stoker's masterpiece, it is at heart a romance, an unearthly creature finds that he still has a heart, as he desperately seeks the one thing that makes life worth living; love!
There are some moments which are sensual in nature so the performance should be considered PG-13, however children would likely see much worse on prime time television.
Some of you may have seen a harsh review of the Roxy Production of Dracula the Musical written by the Leaf Chronicle, sometimes critics make the mistake of thinking they have to be hypercritical and nitpick every little thing they can find, while every day people can go and enjoy a good show!
In the end it comes down to a simple question, was seeing the show worth the price that you paid for admission? In my opinion in this case that answer is a resounding yes!
The show runs from October 8th through the 30th. Tickets are $20 for adults, and $15 for age 13 and under. This is the perfect Halloween show for you to enjoy alone, or with your family; so do yourself a favor, and see this thoroughly enjoyable show.
Photo Gallery
Cast
Count Dracula
Justin Barnum
Mina Murray
Joanna Carpenter
Jonathan Harker
Ryan Bowie
Renfield
Ryan Dawley
Dr. Jack Seward
Michael Hadary
Lucy Westenra
Laura Lynne Tapper
Quincey Morris
Nate Washburn
Arthur Holmwood
Travis Kendrick
Professor Van Helsing
Keith Patrick McCoy
Vampire Girls
Lisa MacAfee, Lia Sumerano, Kendall Anne Thompson

The Band

Piano
Tom Thayer
Percussion
Thad Wallus
Musical Numbers
Act I

Prologue




Vampire Girls

Jonathan's Arrival
Jonathan

Solitary Man




Dracula

Whitby Bay
Mina, Jonathan, Dracula

Forever Young




Vampire Girls, Jonathan

Fresh Blood
Dracula, Vampire Girls

The Master's Song




Renfield, Vampire Girls

The Mist
Lucy

A Perfect Life/Loving You Keeps Me A/Whitby Bay (Reprise)




Mina, Jonathan, Dracula

Weddings
Mina, Jonathan, Lucy, Authur, Ensemble

The Invitation




Lucy

Nosferatu
Van Helsing

Man of Woman Born




Van Helsing, Ensemble

Life After Life
Dracula, Lucy, Ensemble

Act II

Undead One




Van Helsing, Mina, Quincey, Jack, Authur, Ensemble

Please Don't Make Me Love You
Mina

The Master's Song (Reprise)




Renfield, Dracula, Vampire Girls

Summers Come, Summers Go
Van Helsing

If I Had Wings




Mina

Mina's Suduction
Dracula, Mina

It's Over




Dracula, Van Helsing

Deep in the Darkest Night
Van Helsing, Quncey, Authur, Jack

Before the Summer Ends




Jonathan

Train Sequence
Van Helsing, Dracula, Mina

The Longer I Live




Dracula

At Last
Mina, Dracula

Finale




Mina, Dracula
The Roxy Regional Center for the Arts
The Roxy is currently conducting a fund raising drive in order to convince 1000 people to donate at least $1000 each. This would raise the $1,000,000 needed to kick off the next phase of the construction on the Roxy Regional Center for the Arts. They are reaching out to the community through phone-a-thons by actors, board members, and through well connected community members to reach their goal of 1,000 donors.
According to their Prospectus for the Roxy Regional Center for the Arts.
The Roxy Regional Theatre is one of America's fastest growing regional theatres thanks to broad community and regional support. Like all great cultural institutions, our proposed Center for Arts and Education will rely on private as well as corporate donations. Its vibrancy will reflect the thoughtful generosity of citizens who want to play a part in building a great organization for their community, and who want the best possible quality of life for everyone in the community and for generations to come.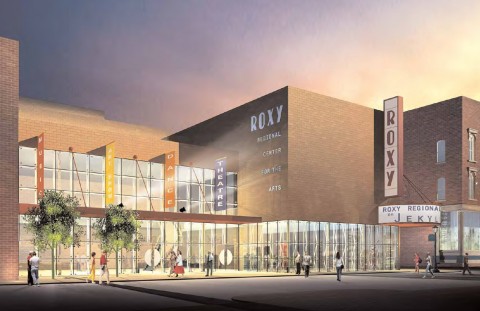 The new center will feature:
A world class performance hall seating 500 where outstanding theatrical seasons of musicals, classics, Shakespeare, children's and special performances of the highest quality can perform alongside music concerts, dance recitals, touring productions as well as corporate meetings
Arts education programs that currently serve over 26,000 students and provide critical enrichment to schools in numerous Tennessee and Kentucky counties
Cutting Edge Programs such as our "pay-what-you-can" previews which allows every Tennessean in this region an opportunity to explore the theatre regardless of economic background
Tourist Center at the hub of our historic district Local Art Gallery, Studios and Gift Shop
Life enhancing experiences that currently reach audiences of over 50,000 annually
New enrichment programs such as Kindermusic, a music program for created for children and their parents
Roxy Dance, a new structured dance company
Adult Acting, taught by seasoned professionals in our company
Exceptionally talented professional actors, singers, dancers and musicians whose presence in our community enriches our teaching institutions and our arts
Distinction for our city as a center for first rate arts, culture and entertainment that promotes economic development in Middle Tennessee
If you are interested in donating to help them reach their goal, contact the Roxy Regional Theater via email at or by telephone at (931) 645-7699.