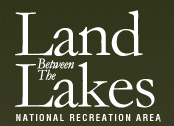 Golden Pond, KY – Visitor facilities at Land Between The Lakes (LBL) National Recreation Area will begin their late fall and winter operation schedules in November.
The Homeplace and Woodlands Nature Station will be open Wednesday-Saturday, 9:00am-5:00pm and Sunday, 10:00am-5:00pm during November. The Homeplace, Nature Station, and the North and South Welcome Stations will be closed Thanksgiving Day, and all of December, January, and February. However, The Homeplace and Nature Station will offer various guided programs, including the popular Bald Eagle Van Tours and River Cruises. 
The Golden Pond Planetarium will operate Wednesday-Sunday during November (with the exception of Thanksgiving Day). The holiday favorite, "'Tis the Season," and "Laser Holiday Laser Light Music Shows" are being offered at the Planetarium, Wednesday-Sunday, December 1st-19th. If groups wish to be scheduled Monday-Tuesday, arrangements may be made by calling 270-924-2020. After this period, the Planetarium will be closed through the end of Feb.  These shows present beautiful, full dome views of the simulated night skies and celestial events using the latest in digital imaging technology.
The Elk & Bison Prairie remains open year-round, dawn-to-dusk, as does the Golden Pond Visitor Center (with the exceptions of Thanksgiving, Christmas, and New Year's Day). The winter months offer the best chance of viewing elk, as the colder and shorter days draw the elk out later in the morning and earlier in the afternoon to feed. 
While the developed campgrounds Hillman Ferry, Piney, and Energy Lake will be closed beginning December 1st, 2010, campers will find all six self-service fee camping areas and all backcountry areas open throughout the winter. Wranglers Campground and Turkey Bay OHV Area, as well as the hiking and biking trails, will also remain open throughout the winter unless inclement weather causes the facilities to be closed. During times of excessive wet conditions, it is recommended that visitors "Call Before You Haul." Please call 270-924-2000 and press 3 for updates on weather related closures or visit our website at http://www.lbl.org/TrailsUpdate.html.
LBL's Reservation System will be upgraded beginning December 1st. No reservations can be made on the system from December 1st through January 18th. This includes the call centers, as well as the website.
Facilities will re-open on March 1st, 2011, with a vast array of springtime activities and programs. 
About Land Between The Lakes
Land Between The Lakes is managed by the Forest Service, U.S. Department of Agriculture, in partnership with "Friends of LBL," to provide public lands outdoor recreation and environmental education. We encourage visitors to review our website at www.lbl.org each season, and throughout the season, for our Calendar of Events, updates on programs and policies, safety information, and temporary trail and road closures.  Additional LBL and "Friends of LBL" information is also available on our website or by calling 1-800-LBL-7077 or 270-924-2000.