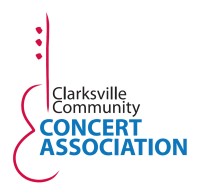 It is the dream of every small town concert series to discover the next opera star before her name becomes a household word. Clarksville Community Concert Association has done just that in scheduling the Friday night concert of Danielle Talamantes, whose name one hopes to see in lights at the Metropolitan Opera in the near future on a regular basis.
Talamantes was Introduced by Dr. Gail M. Robinson-Oturu, Professor of Voice at APSU and President of the Clarksville Community Concert Association.
Ms. Talamantes has won first place in competition in the Irene Dalis Opera San Jose, Irma M. Cooper Opera Columbus, XII Concurso de Trujillo, International Lotte Lehman Cybersing, NATSAA and Vocal Arts Society Discovery Series Competitions. With degrees from Virginia Tech and Westminster Choir College at Princeton, Ms. Talamantes has recently received rave reviews for her portrayal of Violetta in Verdi's La Traviata with Fremont Opera. She has performed as Gretel (Hänsel and Gretel); Susanna (Le Nozze di Figaro or The Marriage of Figaro); Pamina (Die Zauberflöte or The Magic Flute); Micäela (Carmen); Rosina (Il barbiere di Siviglia); and Yum-Yum (The Mikado) among others.
Future performances include being a featured soloist in Mozart's Coronation Mass with the National Philharmonic Chorale and Orchestra (February, 2011); Pamina in Mozart's Die Zauberflöte with Sacramento Opera (also in February, 2011); soloist in Handel's Dixit Dominus and Schubert's Mass in G with Oratorio Society of Virginia (March, 2011); soloist in Haydn's Harmoniemesse with Blacksburg Master Chorale (Aril, 2011); and covering the role of Najade in Strauss' Ariadne auf Naxos with the Metropolitan Opera (May, 2011).
Playing to sold out audiences elsewhere, she was greeted by a disappointing turnout in Clarksville Friday night; 136 people who will some day be able to say they saw Ms. Talamantes prior to her becoming the international star she deserves to be. It was tantamount to being able to say that one saw Beverly Sills or Kiri Te Kanawa before either of them performed at the Met.
With the graceful figure and beauty of a younger version of the beloved mezzo-soprano Frederica von Stade, Ms. Talamantes takes the stage with an assurance of one who has lived there for more than her own tender years. She uses her body as a supple extension of the lyrics to express emotions ranging from the saddest mourning to the happiest of jokes. Her unusual ability to display the gist of the music with her mobile lip movement is fascinating to watch. It was easy to imagine Ms. Talamantes on the operatic stage as a captivating diva.
The program she set for herself on Friday night was grueling and being a young performer, she mistakenly did not schedule an intermission for herself or her audience. While the audience was comfortable with not leaving their seats, Ms. Talamantes was faced with extremely difficult music nevertheless easily accomplished by the technically perfect singer. She stated before the end of the concert that she would not schedule that type of performance again without allowing herself a few minutes of rest. The concert was worthy of Carnegie Hall and a New York audience of highly skilled classical musicians.
She opened her program with five of Robert Schumann's art songs to be followed by Ach ich fühls from Mozart's Die Zauberflöte. Then came Enrique Granados' Canciones Amatorias, a series of seven songs in Spanish. Igor Stravinsky's "No Word from Tom" from The Rake's Progress preceded Three Poems by Fiona MacLeod, set to music by Charles T. Griffes. The scheduled program ended with Ombre légère from Dinorah by Giacomo Meyerbeer. Ms. Talamantes treated her audience to an encore in which she expressed her true desire to receive a rave review for her performance, which she certainly deserved.
The spectacular program was one in which Ms. Talamantes revealed her perfect pitch through using her voice in incessant leaps that would have almost certainly damaged the voice of a lesser talent. Her wide vocal range revealed an instrument that is consistent from the highest to lowest of tones; she is able to sing not only the fortissimos required of high notes but perfect pianissimos in low ones as well. Her sparkling version of Ombre légère brought her audience from across the footlights into her corner; prior to that coloratura exhibition, the applause had been supremely polite but not exuberant. With the display of versatility of the Meyerbeer, she captured her audience and made them her own. The delightful encore confirmed the artistic and acting talent that makes Ms. Talamantes not only a superb singer but an actress who can create the role of whatever character she chooses to portray.
Ms. Talamantes was a gracious hostess for her concert as she spoke with her audience between sections of the performance. Admitting that she was preparing for her role as Pamina, she sang the Mozart with expertise; her preview of her coming visit with the Sacramento Opera foretells an unforgettable performance that should propel her even further into the international spotlight.
Not to be overlooked is Joy Schreier, the superb accompanist who also serves as one of Ms. Talamantes' voice coaches. Truly an artist at the piano, Ms. Schreier has been called "an orchestra at the piano" by none other than Plácido Domingo, the foremost tenor of our day. To hear Ms. Schreier play is to be almost tempted to ignore the soloist. She not only "breathes" with the singer, but supports with a musicality that creates a true duet.
With her Doctorate in Accompanying and Chamber Music at the Eastman School of Music, she was the recipient of the Barbara Koeng Award for Excellence in Vocal Accompanying. Ms. Schreier coaches for the Washington National Opera Domingo-Cafritz Young Artist Program and is the Principal Keyboard Artist and Vocal Consultant for the Cathedral Choral Society at the Washington National Cathedral. She has also served as official pianist for both the Metropolitan Opera National Council Auditions and the Washington International Voice Competition.
The sometimes overlooked role of the accompanist is critical to the success of any soloist. The skillful pianist can cover any tiny bobble and make it appear as if it were possibly meant to occur. Ms. Schreier is perfection itself in playing exactly as the singer's notes are sung and with the correct amount of volume to support yet never overpower the performer herself. She is the dream accompanist that a singer hopes to find at some point in one's lifetime. Since Ms. Schreier's accompaniment was flawless, Ms. Talamantes has correctly chosen to work with the best.
Ms. Schreier has performed in nine countries outside the United States and has presented recitals at Weill Recital Hall at Carnegie Hall, the Kennedy Center for the Performing Arts, the National Museum for Women in the Arts, the National Portrait Gallery, the Phillips Collection, the Cosmos Club, Strathmore Hall, the Embassies of Austria, Russia, Poland, and Anderson House on Embassy Row in our nation's capital, near where both Ms. Talamantes and Ms. Schreier call home.
This concert was a never-to-be-forgotten evening of music. Opera lovers who were able to attend will long remember their fortune in hearing these two superior talents. The Clarksville Community Concert Association is to be congratulated for presenting this stellar performance.
Coming on Saturday, January 29, 2011, in the acoustically perfect Music/Mass Communications Building Concert Hall are the Fisk Jubilee Singers. Sponsored by the Center of Excellence for the Creative Arts, and supported by APSU, This Community Concert Series concert will sell out early. You can buy your tickets online at The Clarksville Community Concert Association web site, or by calling 877-811-0200 or writing to the Clarksville Community Concert Association, Box 210, Clarksville, TN 37040-0210. Tickets are $25 each adult, $15 for non-APSU students, and APSU students are admitted free.
Photo Gallery
About Sue Freeman Culverhouse
Author of Tennessee Literary Luminaries: From Cormac McCarthy to Robert Penn Warren (The History Press, 2013) Sue Freeman Culverhouse has been a freelance writer for the past 36 years. Beginning in 1976, she published magazines articles in Americana, Historic Preservation, American Horticulturist, Flower and Garden, The Albemarle Magazine, and many others. Sue is the winner of two Virginia Press Awards in writing.

She moved to Springfield, Tennessee in 2003 with her sculptor husband, Bill a retired attorney. Sue has one daughter,  Susan Leigh Miller who teaches poetry and creative writing at Rutgers University.

Sue teaches music and writing at Watauga Elementary School in Ridgetop, Tennessee to approximately 500 students in kindergarten through fifth grade. She also publishes a literary magazine each year; all work in the magazine is written and illustrated by the students.

Sue writes "Uncommon Sense," a column in the Robertson County Times, which also appears on Clarksville Online. She is the author of "Seven keys to a sucessful life", which is  available on amazon.com and pubishamerica.com; this is a self-help book for all ages.

Web Site: http://culverhouseart.com/
Email:
Sections
Arts and Leisure
Topics
APSU Center of Excellence for the Creative Arts, Clarksville Community Concert Association, Clarksville Community Concert Series, Gail Robinson-Oturu, Metropolitan Opera