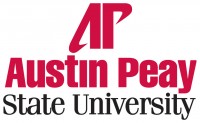 G.H.O.S.T., is a great Halloween tradition at Austin Peay State University. The acronym stands for Greater Halloween Options for Safe Trick or Treating. The event brings together campus groups and organizations to give children a fun time in a safe family friendly environment.
One of those groups the Honor Society of Phi Kappa Phi (PKP) through their Candy for the Mind program, has been working since 2003 to grow the love for reading in children. To that end they distribute books to children during the G.H.O.S.T. event, last year they gave our more 1,500 books to community children.
Originally intended for the children of APSU students, faculty and staff, G.H.O.S.T. also draws in children from the local community. APSU clubs and organizations, as well as groups from the community, hand out candy, give away books and paint children's faces.
The event is sponsored by the Student Government Association (SGA).
Photo Gallery