Notice of Public Meeting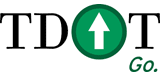 Nashville, TN – The Tennessee Department of Transportation (TDOT) will conduct a Public Information Meeting on Thursday, November 18th, 2010, in the gymnasium of Liberty Elementary School, 849 South Liberty Church Road, Clarksville, TN, to discuss the proposed improvements to SR-374 from SR-149 west of River Road to SR-76 in Clarksville, Montgomery County, TN.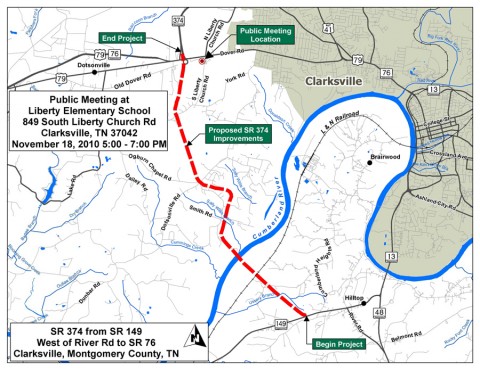 This meeting is being held in order to provide the public the opportunity to review and comment on the proposed improvements being studied by the department for SR-374. The study section to be shown at this meeting begins at SR-149 just west of River Road and ends at SR-76, as shown on the general location map. The preliminary alignment will be displayed on aerial photography.
A Supplemental Draft Environmental Impact Statement (SDEIS) is being prepared to evaluate the potential social, economic, and environmental effects associated with the proposed improvements. The SDEIS will evaluate a "Build Alternative," as well as a "No Build Alternative."
The meeting will be held from 5:00pm–7:00pm in order to provide the public an opportunity to participate in the project development process. A brief presentation will be followed by a question and answer period. The public is invited to provide comments during the meeting and will be given the opportunity to make their opinions known concerning the need for the project. Representatives of the department will be available to provide information on various aspects of this project. If you have any questions regarding this meeting please contact Mr. Tom Love below.
Mr. Tom Love, Environmental Manager
TDOT, Environmental Division
Suite 900, James K. Polk Bldg
505 Deaderick Street
Nashville, TN 37243-0334
Phone: 615-741-5364
Email: Tom.Love@tn.gov