November 20th, 2010 • Noon. CST Richmond, KY • Roy Kidd Stadium (20,000)
APSU Men's Football

Clarksville, TN – Since rejoining the Ohio Valley Conference the Governors own a 1-2 record against Eastern Kentucky, including last season's 26-22 victory in Clarksville to snap a 22-game losing streak in the series.
Austin Peay enters the contest on a seven-game losing streak. The seven-game losing streak matches the one that occured in 2008. An eight-game losing streak would match the longest APSU has endured since the 2004 season.
The 35 points versus Murray State were the Governors second most of 2010.
Senior running back Terrence Holt was credited with a career-best 338 all-purpose yards against Murray State. The 2009 FCS leader has now moved up to third (from ninth) after the performance that saw him rush for 140 yards and tally another 189 in kickoff returns. It was his second career start at running back.
Austin Peay comes into the game ranked 103rd (out of 117 teams) or higher in four defensive categories–rushing defense (111th/223.70 ypg), total defense (115th/468.90 ypg), scoring defense (116th/40.30 ppg) and sacks (114th/.80).
Austin Peay has allowed 28 or more points in all seven losses this season, including 61 by Murray State. The Govs are permitting 40.30 points per game.
The Govs are ranked 116 out of 117 teams in first downs permitted (24.50 per game).
Austin Peay is ranked 115th in FCS rankings for third-down defensive efficiency, allowing the opposition to convert 48.57 percent of opportunities.
Austin Peay enters Saturday's contest with a 93-167-2 OVC record (35.9 percent).
Austin Peay has enjoyed only 18 winning seasons in 73 years of football and only two winning seasons since the turn of the century–a 7-5 mark in 2002 as a non-scholarship program and a 7-4 record in 2007 in Rick Christophel's first season.
Colonels To Watch
Sophomore QB T.J. Pryor tied a program single-game record by tossing four touchdown passes in the 42-29 win at Tennessee Tech last Saturday. He finished 14 of 24 for 279 yards. He also rushed for 100 yards. Sophomore WR Orlandus Harris has a chance to become just the sixth Colonel to reach 1,000 yards receiving in a season. Harris needs 98 yards receiving to reach the milestone. Over the last gameweeks, Harris has tallied 13 receptions for 405 yards and four touchdowns. Running back H.B. Banjoman totaled 103 yards rushing against Tennessee Tech.
Junior defensive Jeremy Caldwell is on the Buck Buchanan Watch List. He has two interceptions this season, one for a TD, while also averaging 31.9 yards per kick return. Strong safety Patrick McClellan leads the Colonels in tackles with 63 while inside linebacker Jordan Dalrymple has 59. Defensive end Anthony Brown has 12 tackles for loss, including 6.5 quarterback sacks.
Setting The Scene
The Series: APSU trails the series, 4-38
Last Meeting: October 24th, 2009: Austin Peay 26, Eastern Kentucky 22

The Govs rejoined the OVC for football in 2007 after returning to scholarship football in 2006. The Govs finished sixth in the OVC a year ago with a 3-5 league mark and were 4-7 overall. The Govs were picked to finish tied for seventh in 2010. Meanwhile, the Colonels were picked to finish third in the preseason poll. EKU is currently amidst a three-game win streak. However, the Colonels got off to a 0-3 and 2-5 start but enter Saturday looking to finish with a 6-5 overall record, including 5-2 in the OVC. EKU seeks to record its 15th unbeaten home season since 1969. It also is seeking its 300 OVC victory.
Caffee On The Mend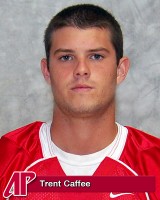 Trent Caffee, APSU's senior quarterback who suffered neck and head injuries in last Saturday's contest against Murray State, was discharged from St. Thomas Hospital earlier this week. "Trent has shown daily progress," APSU head athletic trainer Joni Johnson said. "With the type of neck injury he sustained and a concussion, he has been placed in position where the road to recovery is not insurmountable. With his work ethic he should return to normal activities. It will take time."
After initial hospital treatment, Caffee was transferred from Gateway Medical Center to St. Thomas in Nashville, where he was under the care of Dr. Jason Hubbard, a neurosurgeon with the Howell/Allen Brain and Spine Specialists who also is member of the APSU medical team.