APSU Women's Basketball


Charleston, IL – A late second half run led to Austin Peay State University women's basketball team dropping a 79-58 decision to Eastern Illinois, Saturday, in Ohio Valley Conference play.
While the Lady Govs (2-7; 1-1 OVC) trailed the Panthers for most of the game, they had it in single digits at 53-45 with 10:49 to play after a jumper by sophomore Meghan Bussabarger. However, a bucket by Hillary Held sparked an 18-6 EIU run that finished off the Lady Govs.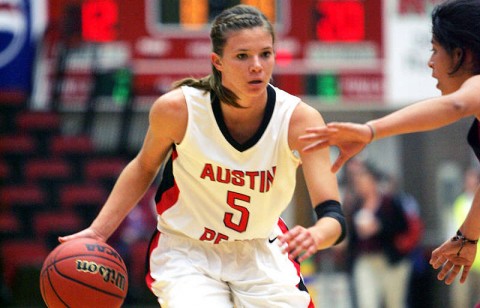 The final 21-point margin was manifested in Eastern Illinois' (4-4; 2-0 OVC) prowess at the free-throw line where the Panthers made their first 21 attempts en route to a 23-of-25 effort. That performance, coupled with 22 Austin Peay turnovers turned into 22 EIU points, put the Lady Govs in a gaping hole.
Austin Peay was led in scoring again by Bussabarger, scoring 19 points in 35 minutes of action. The Lady Govs also got a strong night out of freshman point guard Nicole Olszewski, who finished with a season-high 13 points while being defended by the reigning OVC Defensive Player of the Year Ta'Kenya Nixon.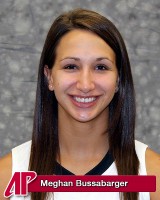 A large part of Austin Peay's offensive troubles – the Lady Govs shot only 39.6-percent from the floor – are a result of playing without junior Whitney Hanley for much of the game. Hanley played only 20 minutes, picking up two early fouls in the first half and getting tagged with her fourth foul two minutes into the second half.
In fact, EIU led 7-6 when Hanley went to the bench in the first half. Seven turnovers later, Eastern Illinois led 25-11 with 7:13 until the break – the only Austin Peay baskets came on a three by Olszewski and a jumper by senior Dalila Thomas.
The Lady Govs fought back to make it 36-28 at the break, but failed to gain any momentum in the second half.
Eastern Illinois had four players in double figures, led by Sydney Mitchell's 16 points. Chantelle Pressley added 14 points and Mariah King, 12. Nixon finished with 10 points, four assists and three steals.
Austin Peay outrebounded the Panthers 35-32, led by junior Jasmine Rayner's season-high 13 boards, and had a 12-8 advantage on second-chance points.
The Lady Govs now get to start a four-game home stand, their longest stretch of home games, with a 7:00pm, Wednesday game against Lipscomb.