APSU Men's Basketball

Charleston, IL – Eastern Illinois was unable to hold on to a 13 point second half lead as they fell to Austin Peay, 77-73 in overtime, on Saturday night.  EIU dropped to 3-5, 1-1 in the OVC.  APSU improved to 5-4, 2-0 in the OVC.
The Governors were able to build a seven point lead in the first half as Tyshwan Edmondson drained back-to-back 3-pointers to give APSU a 21-14 lead with 12:47 left in the first half. A pair of free throws by Justin Blake pushed APSU's lead to 25-16 at the six minute mark. EIU closed the half with a 13-5 run as they trailed 30-29 at the break. 
EIU used that momentum from the end of the second half to slowly build a lead of its own as James Hollowell scored six straight points midway through the second half to put EIU up 56-43 with 8:45 remaining. Hollowell scored 11 points as he was one of five Panthers to finish in double figures.
Austin Peay was able to work its way back into the game by crashing the offensive glass and forcing turnovers with a full court trap. The Governors had 22 offensive rebounds which they turned into 23 second chance points. APSU forced 11 EIU turnovers in the second half.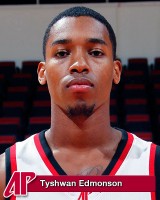 Curry McKinney gave the Panthers a 67-65 lead hitting two free throws with 1:24 left. Edmondson answered with 1:03 remaining with a pair of free throws as he led all scorers with 33 points. Both teams had scoring chances in the final minute.  Anthony Campbell added 17 for APSU.
In overtime Jeremy Granger gave EIU a two point lead with a lay-up with 3:33 left to play. Granger had 12 points for EIU.  Caleb Brown gave the Governors a 70-69 lead with 2:43 left and Edmondson helped push the lead to four with a jumper and pair of free throws in the final 47 seconds. 
Pratl led the Panthers with 19 points while Tyler Laser added 15 and Alfonzo McKinnie scored 10. EIU was 22-of-25 from the free throw line.