Written by By U.S. Army Staff Sgt. Ryan C. Matson
Task Force Red Bulls Public Affairs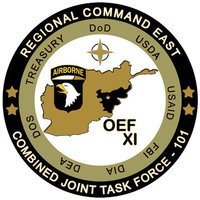 Laghman Province, Afghanistan – It was a week before Christmas.
Some of the Soldiers of Company E, 1st Battalion, 133rd Infantry Regiment, talked of a snowstorm back home in Iowa. However, on Forward Operating Base Mehtar Lam in eastern Afghanistan, they laughed as they tossed a University of Iowa Hawkeyes football back and forth on a beautiful, sunny, 70-degree day December 18th.
The Soldiers were relaxing before going on one of the last mail runs before Christmas. There are only a few hundred Soldiers on FOB Mehtar Lam, and even less on combat outposts Najil, Kalagush and Xio Haq, the places where some of the mail would eventually be delivered.
The Soldiers, part of Task Force Ironman from the 2nd Infantry Brigade Combat Team, 34th Infantry "Red Bulls" Division, are responsible for running convoys of supplies back and forth between FOB Mehtar Lam and Forward Operating Base Fenty, as well as to the smaller combat outposts.
"I enjoy getting mail as much as anybody else does, so it's kind of nice to bring some back to the other Soldiers," said U.S. Army Sgt. Cassidy Howard, a truck driver with the 2168 Transportation Detachment, attached to Task Force Ironman.
Howard looked over at the long line of pallets of mail lining the two flatbed trucks in front of him. There were 25 pallets of uni-packs completely filled with packages and tuff boxes on the trailer beds, the majority of which were holiday mail and care packages.
"When you deliver this much mail, there's probably something for you in there," said Howard, who works as a construction worker in Milford, IA. "I think that's kind of exciting; we've been waiting for it, too."
The Soldiers of Co. E has been delivering a lot of holiday mail lately. The unit, based out of Waterloo, IA, typically does not handle mail. The majority of the mail is usually flown in by civilian contractors. However, U.S. Army 1st Lt. Clint Holtz, Co. E executive officer from Walnut, IA, said there is currently a lapse in air-mail contracts meaning Co. E is picking up the slack. During this time of year, the volume of mail is even higher than usual.
"We always try to grab mail on our convoys, if we can," Holtz said. "But we're not used to grabbing so much!"
Holtz said Co. E would usually conduct combat logistical patrols to transport supplies to the FOBs and COPs, as well as escorting Afghan vehicles on supply runs. The company does an average of two to three convoys a week between FOBs Mehtar Lam and Fenty, as well as to the COPs. The convoys are 20 to 45 miles each way, and Holtz said in the three months they've been here, Co. E has convoyed more than 1,300 miles and transported thousands of tons of supplies. But the company does much more than convoys.
He said Co. E is a forward support company, meaning pieces of it can be found at FOB Mehtar Lam, as well as the smaller COPs in the Red Bulls area of operations. The company supports the 1st Bn., 133rd Inf. by providing cooks, vehicle/equipment mechanics, fuelers and transportation Soldiers for the regiment.
 
U.S. Army Sgt. Shannon Osterholm is another truck driver from the 2168 Trans. Det., which is attached to Co. E in support of Task Force Ironman. She said she likes driving trucks for the Army because of the places it takes her and also volunteered for this deployment.
"Back home, we drive all over the United States," Osterholm said. "I've seen so many states and different places being a truck driver."
Osterholm said driving trucks is also a nice change of pace from her civilian life, in which she works as a zookeeper with the Blank Park Zoo in Des Moines, Iowa.
"I like it," Osterholm, who lives in Des Moines but is from Mason City, IA, said. "It kind of breaks life up a little."
In addition, Osterholm said she has driven supplies on relief missions, such as to Louisiana after Hurricane Gustov.
After they had picked up all the mail at FOB Fenty, the Soldiers of Co. E made the 42-mile trip back to FOB Mehtar Lam, where the mail was sorted to be distributed to the Soldiers there, as well as separated to go to the COPs. It was a busy day, and one the Soldiers knew they would repeat the trip again soon. Still, Holtz said his Soldiers like to be on the road.
"They get restless if they're sitting around on Mehtar Lam for too long," Holtz said. "They like to keep busy and be on the go."