Clarksville, TN – The Clarksville Police Department wants to make the public aware that there might be a person trying to impersonate a Police Officer.
On December 29th, 2010, around 1:00pm, one of our officers, Jeff Danault, was off-duty and in his personal vehicle driving on Wilma Rudolph Blvd. when a white Crown Victoria approached from the rear at a high rate of speed and started to tailgate him, almost rear-ending Danault's vehicle.
Danault had to stop at a red-light and the vehicle was behind him. The man inside was making hand gestures and activated what sounded like a PA system in what Danault construed as an effort to get him to pull over. While Danault was stopped at the light, he got a good look at the vehicle. He saw a Fort Campbell sticker on the vehicle's windshield and realized it was not a police vehicle.
He called the 911 center to have officers come to his location. When the man saw Danault of the phone, he quickly fled from the area. The vehicle was out of the area and officers could not locate him.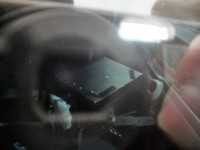 Officer Danault got a good look at the man and saw the vehicle had a Florida plate, but was unable to get the tag information. After contacting Fort Campbell, a possible vehicle and owner were identified.
The vehicle was located on Fort Campbell and found to have many police type items installed: Camera system, transport gage, spotlight, PA system, red reflectors (not lights) in the front grill, siren, etc. and a D.A.R.E plate on the front.
The vehicle description is a white Crown Victoria, Florida tag, D876DB.
The vehicle owner has been identified and lives at Park Apartments on Needmore Road.
There is an ongoing investigation.