APSU Men's Basketball

Murray, KY – Austin Peay State University snapped the nation's fourth longest home winning streak, Saturday afternoon, as it held off Murray State, 66-64, in Ohio Valley Conference basketball action, played at the CFSB Center in Murray, KY.

The victory was Austin Peay's fifth straight and improved them to 5-0 in the OVC and 11-6 overall. Murray State falls to 10-5 overall and 3-2 in the OVC.

The Govs' victory snapped the Racer's 25-game home winning streak. Only Kansas (68), Duke (28) and Kentucky (26) had longer winning streaks entering Saturday. It also snapped Murray State's 18-game OVC home winning streak.

It was a game Austin Peay controlled much of the afternoon, only to watch the defending OVC champ Racers turn it into typical APSU-Murray State battle for an ESPNU audience.

With sophomore guard Justin Blake coming off the bench to knock down four first-half three pointers, the Governors led by 10, 38-28, at halftime. The Govs continued their dominating play early in the second half as they built a 61-46 lead on a Melvin Baker free throw with 9:36 left.

But that's when the defensive-minded Racers started to peck away. The Govs, who had just three first-half turnovers, had three in less than minute from the 7:48 mark to 6:49 remaining. The double-digit lead was now just eight.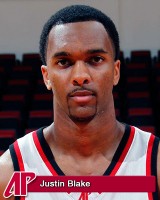 A free throw and three pointer from Murray's Isaiah Canaan made it four-point game, 61-57, with 5:44 remaining. But consecutive buckets from Josh Terry and John Fraley, his a dunk off a pass from Melvin Baker, propelled APSU back to an eight-point lead with 3:53 remaining.
But Murray responded with a dunk from Ed Daniel and another three pointer from Canaan, the preseason All-OVC selection, to slice the deficit to three, 65-62, with 2:33 left.
That is when the game turned bizarre. An inadvertent whistle with 1:50 left sparked nearly a 15-minute stoppage in play that saw the officials call an intentional foul on Murray State's Isacc Miles for throwing an elbow into the jaw of the Govs' Josh Terry.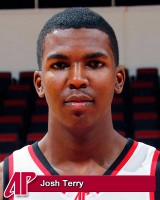 Terry converted one of the two free throws to make it a 66-62 game.
APSU also got the ball back but again a turnover gave it right back to Murray State with 1:36 left. But the Racers' Jewuan Long missed a shot as did Ed Daniel on the follow attempt with 1:16 remaining. Murray State again got the rebound.
But after a timeout the Racers committed a turnover with 59 seconds left as Govs' point guard Caleb Brown stole the ball past the three-point circle. Brown elected to kill some clock and it ended with the Govs guard missing a running one hander with 30 seconds remaining.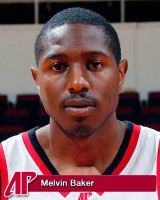 Canaan then drove to the bucket, only to be fouled by Baker with 22 seconds left. He made both free throws to make it a two-point game.
The Racers fouled Blake with 7.8 seconds left, but he missed the front end of the one-and-one, offering Murray State a chance to tie or win it. The Racers called timeout with 3.0 seconds remaining but B.J. Jenkins, attempting to draw a foul, missed a three pointer at the buzzer.
Blake, who connected on all five three-point attempts on the game, finished with a game-high 15 points while Brown finished with 12 points along with seven assists. Josh Terry added 11. OVC-leading scorer TyShwan Edmondson was held to just six points, none the second half.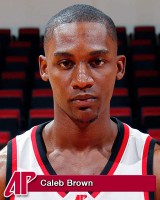 The defensive battle saw the Governors shoot only 44.2 percent (23 of 52) from the floor after shooting 50 percent or better the previous four games. The Govs, however, also held Murray State to only 42.1 percent (24 of 57) shooting.
Canaan and Miles each scored 14 points for the Racrs while Long added 11 off the bench.
Sections
Sports
Topics
APSU, APSU Men's Basketball, Austin Peay State University, Caleb Brown, CFSB Center, Ed Daniel, ESPNU, Governors, Isacc Miles, Isaiah Canaan, Jewuan Long, John Fraley, Josh Terry, Justin Blake, Melvin Baker, Murray State, Ohio Valley Conference, OVC, Racers, Tyshwan Edmondson