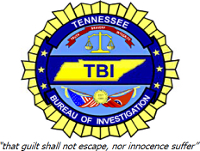 Nashville, TN – The Tennessee Bureau of Investigation is offering a $1,000 reward for information leading to the capture of two Louisiana fugitives believed to be on the run in the Jackson, Tennessee area. If spotted, the public should call 1-800-TBI-FIND (1-800-824-3463). In addition, Crimestoppers is also offering a $1,000 reward.
Law enforcement asking the public to be extra vigilant in looking for these two individuals and let authorities know if you have been approached or given money to the men. Also, tractor trailer drivers are being asked to come forward and let police know if they have picked up any hitchhikers in the Jackson, Tennessee area over the last few days.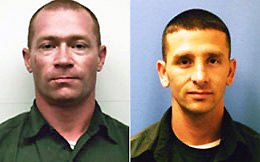 36-year-old Ricky Wedgeworth and 33-year-old Darian "Drake" Pierce are believed to have carjacked, kidnapped and killed 53-year-old David Michael Cupps in Mississippi. Cupps, an Ohio businessman, was found dead in a hotel room in Bessemer, AL on Thursday.
The two escaped last Friday at approximately 2:00pm from the Louisiana State Police Headquarters Compound where they were on work detail. They stole a state issued van which was later found in Louisiana. There is currently a federal unlawful flight to avoid prosecution (UFAP) warrant out for both of them. 
Ricky Wedgeworth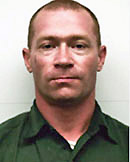 Wedgeworth  is described as a white male approximately 5'8" tall weighing 145 lbs. with reddish brown hair, brown eyes and clean shaven.
He has tatoos on his arms, chest and abdomen.
Darian "Drake" Pierce
Pierce is described as a white male who stands 5'11" tall and weighs approximately 145 lbs. He now has a shaved head, brown eyes and a beard.
He has a jailhouse tattoo, with the name "Drake"  to the left on his back and tattooed fingers on his right hand.
Current Information
Today, law enforcement expanded the perimeter being searched. The two were last  spotted in Jackson, Tennessee. Tuesday evening after a Tennessee Highway Patrol trooper pulled over a stolen car out of Vicksburg, Mississippi near mile marker 84 along I-40 and the two escapes fled on foot. It was determined that car was the vehicle Cupps rented in Mississippi.
Officers with the TBI, FBI, Tennessee Highway Patrol, U.S. Marshals, Jackson Police Department and Madison County Sheriff's Office are all involved in the search.
Both are considered armed and dangerous. Please call 1-800-TBI-FIND (1-800-824-3436) with any information on the fugitives whereabouts.