APSU Women's Tennis

Morehead, KY – Austin Peay State University women's tennis team closed out the weekend with a 5-2 Ohio Valley Conference win at Morehead State, Saturday.

The win snapped a four-match skid for the Lady Govs, despite losing the doubles point for the third consecutive match. Austin Peay won all five singles matches to outlast the Eagles for the win.

"They had to fight back for this win," head coach Malik Tabet said. "One thing we talked about yesterday was to play our game every match. It was a satisfying win for our team. We didn't necessarily play better today, we just played with more confidence."

Sophomore Carolin Weikard and freshman Andra Cornea continued their strong play at No. 2 doubles. Since rearranging the teams in the beginning of March, Weikard and Cornea have won five straight matches. The No. 1 doubles team – junior Vanja Tomic and freshman Kimberly Loo – have not been as successful, dropping their third-straight match, Saturday.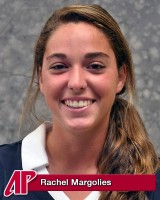 The Lady Govs turned the page in singles play, overcoming their recent struggles to win all five matches. Tomic won her fifth-straight at No. 1 singles, while Weikard won for the first time in four matches at No. 2.
Freshman Rachel Margolies, who has made tremendous strides during the spring season, won her second-straight match at No. 3. Cornea won at No. 4 and Loo worked to a three-set win at No. 5 singles.
Austin Peay 5, Morehead State 2
Singles competition
TOMIC, Vanja (APSU) def. Alix Young (MOR) 6-2, 6-0
WEIKARD, Carolin (APSU) def. Alexandra Rydberg (MOR) 6-3, 6-2
MARGOLIES, Rachel (APSU) def. Madeleinne Antero (MOR) 6-4, 6-3
CORNEA, Andra (APSU) def. Victoria Cran (MOR) 6-4, 99-0
LOO, Kimberly (APSU) def. Jessica Montemayor (MOR) 6-3, 2-6, 6-3
Lauren Delaney (MOR) def. No player (APSU), by default
Doubles competition
Brooke Helms/Madeleinne Antero (MOR) def. TOMIC, Vanja/LOO, Kimberly (APSU) 8-3
WEIKARD, Carolin/CORNEA, Andra (APSU) def. Jessica Montemayor/Victoria Cran (MOR) 8-4
Alix Young/Alexandra Rydberg (MOR) def. No player/No player (APSU), by default
Sections
Sports
Topics
Andra Cornea, APSU, APSU Women's Tennis, Austin Peay State University, Carolin Weikard, Kimberly Loo, Lady Govs, Malik Tabet, Morehead State, Ohio Valley Conference, Rachel margolies, Vanja Tomic