APSU Men's Football

Clarksville, TN – The offense produced two touchdown passes and a field goal, but it was the defense that impressed head coach Rick Christophel during Austin Peay State University's first spring football scrimmage, Saturday, at Governors Stadium.
"I was pleased with the effort on both sides of the football," Christophel said. "But what I was really pleased with was our front. Defensively, our front is like night and day from last year. It is a battle now. They came to play today and hopefully they will do that every week.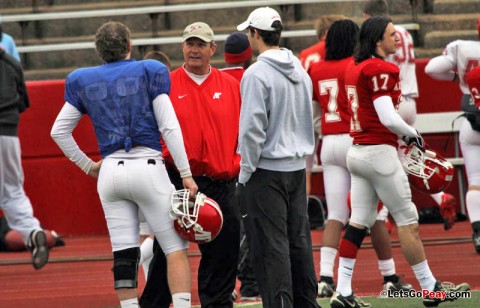 "It is good for our offensive line they (defense) play like that. If there is one area where we have decent depth is the offensive line. When we get (defensive front) play like that, it helps both sides improve."
The defense only created one turnover-an interception by junior linebacker Zac Burkhart-but Christophel liked the aggressiveness displayed throughout the morning as interior linemen Anthony Marion and Skyler Springfield seems particularly effective.
"I thought the biggest thing today is the defense established tempo," he said. "That is what you have to do. I know we made a ton of mistakes but I thought we really tackled decently."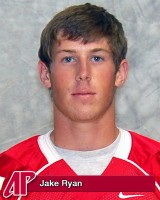 Junior quarterback Jake Ryan threw 17 passes, completing 12 for 100 yards and two TDs, one a six yarder to Robert Lemon and the other a 10 yarder to Tee Howell.  He did not throw an interception and saw two long passes dropped.
Receiver Scott Thomas, a former prep quarterback, gave Ryan relief at quarterback, completing 5 of 12 for 83 yards. He had three passes dropped, including a certain TD pass, and also threw the scrimmage's longest completion, a 46 yarder to tight end Ashlon Adams.
"Overall I think Jake was consistent and took care of the football," Christophel said. "He had two big drops. For the most part he and Scott were pretty accurate. And I thought when Jake had a shot of going down field, he did.  In both cases, the seam and the post (routes) were dropped. But all in all, I thought he did well."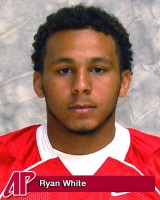 Junior starting receiver Devon Stark caught three early passes before spending the rest of the day on the sidelines. Senior running back Ryan White carried the ball twice before putting on sweats and joining Stark along the sidelines.
The rest of the running game was handled by the young backs–junior Wesley Kitts (7 carries, 50 yards) redshirt freshman Ean Pemberton  (25 carries, 108 yards) and sophomore Dontavious Brown (13 carries, 36 yards).
"I am glad to see Wesley Kitts finally healthy because he is having fun," Christophel said, "and we know what Ryan White can do so there was no need to give it to him, The other two we wanted to see. I think it is important to see what they can do and have them coming out of the scrimmage feeling confident."
Junior kicker Stephen Stansell attempted just one field-a 50 yarder-and nailed it along with both extra points to account for the remainder of the 17 points scored.