Clarksville, TN – On April 10th, around 7:00pm, the Fatal Accident Crash Team  (F.A.C.T) responded to a motor vehicle crash in the area of 3425 Pembroke Road.  Carlos M. Bourne, 33  was traveling on Pembroke Road out of Kentucky into Clarksville when he lost control of his Chevy Tahoe, left the roadway, crossed two driveways, hit a culvert, went airborne, and collided with a tree in the yard at 3418 Pembroke Road.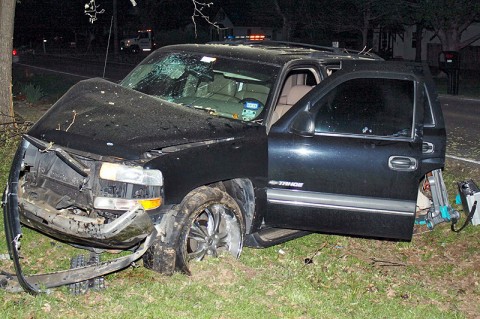 He was the only occupant in the vehicle and was not wearing a seatbelt. Also, the airbag did not deploy. It appears as though his head impacted the windshield on the passenger side. He was Lifeflighted to Vanderbilt with head and facial trauma.
Bourne is in stable condition and maybe released today.
Speed may have been a factor in the accident. Blood was drawn and we are awaiting the toxicology results. The lead investigator is Officer Mike Caver, 931-648-0656, ext 7060.