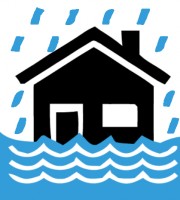 Clarksville, TN – Clarksville has been under the threat of flooding since the heavy rains over the last week. The ground is saturated and the water had no where else to go but into area rivers. This resulted in a flood nearly one year to the day of the Great Flood of 2010.
Wendy's on Riverside Drive implemented their flood plan at their newly reopened store on Riverside Drive. The removed all stock and other items not needed for the operation of the store. And just in case the waters continued to rise, they had a supply of sandbags stacked outside each of the entrances to the store. Luckily they were not needed.
The river rose rapidly but it was still 15.53 feet below the May 2010 levels when the river crested at 47.05 feet 5:00pm yesterday. The water levels were still at 46.42 feet at 2:30am, slightly above flood stage. The water is expected to continue to drop, and should be below flood stage sometime today. The National Weather Service expects minor to moderate flooding to continue, and water levels to remain high through the weekend.
At 40 feet, water levels approach low lying areas along the banks. At 46 feet, The left bank of the Cumberland River overflows and flooding begins in Clarksville. At 49 feet, both banks of the Cumberland River begin to overflow and several secondary roads along the river will be covered by flood waters. At 61.5 feet, flooding of this magnitude will inundate many areas and roads in Clarksville. The approach to Hwy 13 bridge will be cut off. At 63.5 feet several primary and secondary roads along Cumberland River and Red River in Clarksville will be covered by flood waters.
During the May 2010 flooding, the crest was at 62.58 ft on May 4th 2010.