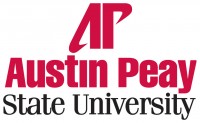 Clarksville, TN – Five Austin Peay State University professors have been singled out by their students and peers as exceptional teachers this year, earning them one of the University's top distinctions for tenure-track faculty members.
Michelle Rogers, biology instructor, Christina Chester-Fangman, assistant professor of library administration, Dr. Benita Bruster, assistant professor of teaching and learning, Dr. David Nelson, assistant professor of history, and Dr.Mercy Cannon, assistant professor of English, were named this year's Socrates Award winners, an honor bestowed by APSU annually to teachers who have excelled in motivating and inspiring their students.
Rogers serves as the APSU Department of Biology's liaison with the College of Education. In that role, she is responsible for maintaining the biology department's secondary science teacher licensure program. She also has a joint appointment in the Center of Excellence for Field Biology as the environmental science project manager, where she is responsible for the Water Education for Teachers program. She teaches introductory biology courses for non-science majors, as well as the vital upper division course Teaching Science in High School.
"Students know Ms. Rogers has an open door policy and is always willing to meet with them to help clarify information they may not have understood from class," Dr. Don Dailey, chair of the biology department, said.
Chester-Fangman, a former Austin Peay honors student, is responsible for library instruction programming for first-year students. She oversees the information literacy curriculum for the APSU 1000 course, and has also served as an APSU 1000 course instructor for years. Her reputation as a wonderful teacher led to her selection as a regular instructor for the Promoting Academic Student Success course, funded through a Title III grant.
"Christina contributes in many ways to campus life, further demonstrating her commitment to connecting with students," Joe Weber, director of library services at APSU, said. "Her oversight, along with colleague Gina Garber, of Trivia Night at the Library, brought students into the library for after-hours programming."
Bruster is described as a "very energetic and capable person," whose greatest strength is her dedication to the students in the APSU Department of Teaching and Learning and the College of Education. She has organized group study sessions and seminars on the PRAXIS Test, which education students must pass in order to receive teacher licensure.
For the last two years, Bruster has met with reading methods classes at Byrns Darden Elementary School once a week. At this school, she has organized a collaborative reading program that addressed the needs of at-risk learners in reading, and uses APSU students in delivering a program that meets the elementary student need. This reading recovery program is designed to give APSU students a real-life perspective of what problems and answers exist for new teachers.
Dr. Rebecca Slayden-McMahan, chair of that department, referred to Bruster as a "stellar example of what a teacher should be."
Nelson is the University's liaison to the Japanese Consulate in Nashville. Through that role, he has been instrumental in bringing Japanese cultural events to campus, such as Japanese music and dance performances and sushi demonstrations.
He serves as a faculty adviser to the APSU history club and an assistant advisor to Phi Alpha Theta, the national history honor society. In this capacity, he has been a steady and reliable faculty escort for APSU history students who present their research at academic conferences.
Dewey Browder, chair of the APSU Department of History and Philosophy, visited Nelson's classroom, and he was struck by the professor's interaction with students.
"Dr. Nelson is clearly in charge in his classroom," Browder said. "He commands the respect of his students while leading them through each day's material. He encourages them to think critically by requiring them to develop historical questions that deal with why and how things came to pass, and their relationship with other events, as well as their contributions to larger movements."
Since joining the faculty in 2007, Cannon has quickly established herself as one of the University's finest classroom instructors. Peer reviews of instruction by her colleagues highlight different aspects of her teaching, but all agree that she is a dedicated teacher with a talent for managing classroom discussions and for steering students toward understanding difficult concepts.
Dr. David Guest, chair of the APSU Department of Languages and Literature, said Cannon is "adept at a kind of balancing act, managing to have a commanding classroom presence without intimidating students into silence." She injects humor into her teaching style, he said, while maintaining a spirit of serious and rigorous inquiry.
"I've become convinced," Guest said, "that one secret to her success is her belief that demanding more of students increases student engagement and success. This is most evident in the way that she integrates elements of her scholarship in the classroom."
An example of this integration includes Cannon requiring students in a graduate course she's teaching to write critical introductions to out-of-print 18th century novels. The assignment came from a National Endowment for the Humanities Seminar she attended, in which attending scholars were asked to write such introductions. Now, APSU graduate students are learning through hands-on experience with a particular type of archival scholarship, and the community of scholars of 18th century literature will profit when that work is incorporated into an online collection.
The five professors were presented with their awards during a ceremony on April 26th.