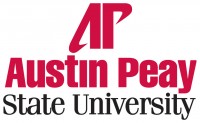 Clarksville, TN – Dr. Perry Scanlan, director of Austin Peay State University's medical technology program, occasionally gets phone calls from potential students, asking him where in Texas the University is located.
"That makes me chuckle," he said. "Because of our name, they always think we're from Austin, Texas."
This confusion will likely end in the next few months now that APSU's MT program is getting a little more national recognition. Earlier this year, Scanlan was named clinical practice editor for the Journal of the American Society of Clinical Laboratory Science, meaning both his name and the University's name will appear prominently on the first page, under the masthead, of the nationally renowned publication.
"This is the journal in our field that represents medical laboratory scientists in a variety of areas," Scanlan said. "It means a lot to our program. It recognizes us as being a leader in our field, as well as bringing recognition for our area and recognizing Tennessee as an important contributor to the laboratory community."
The journal publishes scholarly, peer-reviewed articles on a variety of topics related to clinical laboratory science. Scanlan has been a subscriber to the journal since becoming a member of ASCLS and several years ago, he joined the journal's review board.
He was contacted earlier this year by the journal's editor-in-chief, who asked him to apply for an opening as a section editor. She told Scanlan they were looking for someone who had a good eye for peer-reviewing the quality of articles. After a brief interview, they realized he was their man.
"I'm now reviewing all manuscripts that fall under the clinical practice section, these include case studies, teaching methods, and other best practices" Scanlan said. "These are articles about what we're doing in the field, such as case studies identifying better ways to assess laboratory quality, patient diagnoses, diagnostic testing, and recommendations for evidence-based change. It's articles that focus on those areas."
Medical Technology is a growing and often overlooked field, with numerous opportunities for high-paying jobs in the health care industry. Certified medical laboratory scientists perform virtually all types of lab work in hospitals and doctor's offices, such as  monitoring blood coagulation factors, throat cultures, screening blood for transfusions, and  identifying leukemia.
"We analyze specimens using modern technology after completing a rigorous academic program," Scanlan said. "On TV it looks like doctors and sometimes nurses are doing this work. That's not the case. It's a field that is vital because without laboratory data one wouldn't know exactly what's wrong with a patient.  It would be guess work."
APSU is home to a Bachelor of Science degree program in medical technology. For more information on this program contact the APSU Department of Allied Health Sciences at 931-221-6455 or visit the website at www.apsu.edu/allied-health.