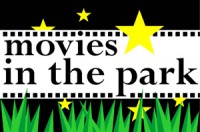 Clarksville, TN – Movies in the Park, the FREE outdoor movie series at the Heritage Park Soccer fields, wrapped up its 2010 season with record attendance numbers.
The eight 2010 Movies in the Park films had an average crowd of more than 500 moviegoers per movie throughout the season. Monsters v. Aliens on May 22nd set an attendance record for the 5-year-old series with a crowd of more than 1,300 people.
Popularity for Movies in the Park has grown since the series averaged a couple hundred of people per film in its inaugural season in 2005. The momentum for Movies in the Park has continued to grow from season-to-season, and we are thrilled that our city as a whole has embraced the concept. Special thanks to our sponsors for their support to make free outdoor movies possible. Movies in the Park sponsors include Centerstone, The Leaf-Chronicle, Clarksville Family Magazine, WJZM, The Beaver 100.3, Amerigroup Community Care, Q108, Lamar Advertising, Premier Medical Group, Ad One Advertising, Fort Campbell Federal Credit Union, Eagle 94.3, Z97.5, and Daymar Institute.
The City of Clarksville Parks & Recreation department is excited to announce this season's Movies in the Park schedule. New this year will be a "Twilight" double feature and a chance to vote on the "People's Choice" movie that will be shown in October by visiting the Movies in the Park Facebook page.
The films to be shown include:
May 28th – AVATAR
June 3rd – FERRIS BEULERS DAY OFF
June 18th – TRANSFORMERS
June 25th – MEGAMIND
July 1st – DREAMGIRLS
July 9th – FIELD OF DREAMS
July 22nd – THE BUCKET LIST
July 30th – NIGHT AT THE MUSEUM
August 5th – PATCH ADAMS
August 20th – HOW TO TRAIN YOUR DRAGON
August 26th – THE SANDLOT
September 2nd – TWILIGHT DOUBLE FEATURE – NEW MOON & ECLIPSE
September 17th – OPEN SEASON
September 23rd – RADIO                   
October 8th – PEOPLE'S CHOICE!*
All movies begin at dusk, with pre-show activities beginning an hour prior. Be sure to bring your picnic blankets and lawn chairs.  As always, you are welcome to bring your picnic basket, but concessions will be available.
All information on Movies in the Park is available at www.parksafterdark.com.
Movies in the Park are FREE and open to the public.