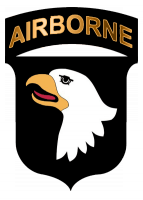 Fort Campbell, KY – After a later afternoon thunderstorm passed through the area Thursday night, 188 Soldiers with the 101st Headquarters and Headquarters Company (HHC) made their way home. The flight arrived about 8:00pm at Campbell Army Airfield.
As the 15 minute notice was given to the planes arrival, friends and family members made there way outside to see the plane land carring home their soldiers.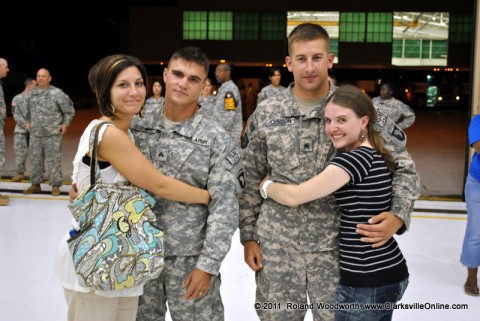 Once inside the hanger Brigadier General Jeffrey N. Colt welcomed everyone home in a short speech to the soldiers before everyone was allowed 15 minutes of family time before heading back to their unit to turn in their gear. As soldiers were released, it was a race for family members to find their soldier.
Candice Johnson and Ashley Guistwyte were very excited that their husbands were finally home. They had their friend Mary Gurnee with them to get photos of them to capture the moments of the night.  Of course when their husbands arrived, they disapeared into the sea of soldiers looking for their wifes, girl friends and or family members.
It was said that there was one lucky soldier on this flight. Her boyfriend asked her to marry him. Reports say that she of course said yes. This is the second proposal in the past week at a Welcome Home Ceremony.  Just last week SGT Charles Sweeney proposed to his girlfriend Sarah Spencer after he returned from Afghanistan.
If you wish to attend a Welcome Home Ceremony, check the flight schedules online, as times are subject to change at any time. When arriving to Fort Campbell, enter via Gate 7; if you don't have installation stickers on your vehicle, you will be required to get a visitor pass. From there just follow the signs to the ceremony parking. Waiting buses transport the Family members safely to the hanger.
Photos