APSU Men's Baseball

Atlanta, GA – Starting pitcher Jack Snodgrass allowed just one run over seven innings and second baseman Jordan Hankins hit a line drive home run to right as Austin Peay State University's baseball team – the No. 4 seed in the Atlanta Regional – stunned No. 1 seed Georgia Tech, 2-1, Friday night at Russ Chandler Stadium.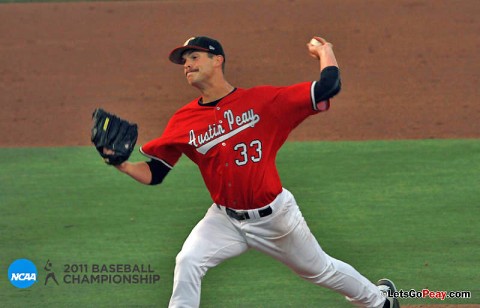 Austin Peay (34-22) advances to face No.3 seed Mississippi State, who upset No. 2 seed Southern Miss in Friday's opener, in a 7:06pm (ET), Saturday contest. Georgia Tech (40-20) will meet Southern Miss in the tournament's first elimination contest at 3:06pm (ET), Saturday.
Snodgrass, who was tapped as the starter just 25 hours before Friday's first pitch, had another masterful outing, despite not retiring Georgia Tech in order in any of his seven innings. The Ohio Valley Conference tournament most valuable player left a runner in scoring position in each of the first three innings, working around doubles in the first and second and then a walk and hit batsman in the third.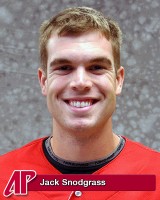 The Yellow Jackets finally scratched out a run in the fourth using three singles, including a RBI single by right fielder Brandon Thomas, but again left a runner stranded in scoring position as Snodgrass induced an inning-ending ground out.
Snodgrass settled in from there. He allowed a runner in scoring position just once in the final three innings and that threat was removed with a double play to end the seventh.
Austin Peay's offense saw just five batters face first-team All-Atlantic Coast Conference pitcher Mike Pope before he left in the second due to an injury. Reliever Mike Grimes kept the Govs off balance until the fourth inning.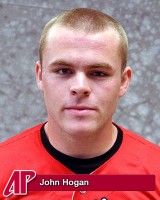 First baseman John Hogan got the fourth-inning rally started with a one-out double to the right field corner. Shortstop Reed Harper followed with a single, moving Hogan to third. Catcher Matt Wollenzin then hit a ball to deep center field, allowing Hogan to score the game's first run.
After Georgia Tech tied the game in its half of the fourth, the Govs went down in order in the fifth and sixth innings and saw the first two batters of the seventh retired as Grimes retired 10 straight batters.
But with two out in the seventh, Hankins drove a 1-0 pitch over the wall in right centerfield for his season's fourth home run. The blast also ended a 0-for-10 drought at the plate that included a hitless outing at the Ohio Valley Conference tournament last weekend.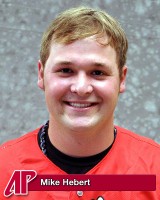 From there Austin Peay turned the game over to its bullpen. Right-handed reliever Mike Hebert started the eighth and retired the first two batters he faced before hitting a batter. The Yellow Jackets brought in a left-handed pinch hitter, Daniel Palka, and head coach Gary McClure went to his bullpen again, this time bringing out southpaw Zach Toney – the team's usual No. 3 starter. Toney ended the eighth with a strikeout.
Then in another surprise, Toney came out of the dugout in the ninth as the Govs pressed their left-handed advantage. Toney got a strike out and a pop up before getting the 27th out on a swinging strikeout of Jacob Esch to give the Govs their second-ever NCAA Tournament victory—and their initial first-round victory.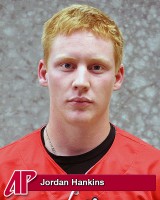 Snodgrass (4-6) won for the second time in his last three outings, allowing one run on seven hits over seven innings. Toney picked up his season's second save – 102 days after recording a save on the season's third day – as he struck out three of the four batters he faced.
Grimes (7-4) suffered the loss after allowing two runs on three hits over 6.2 innings.
Georgia Tech's offense posted seven hits but stranded 10 runners on base. Left fielder Sam Dove had the Yellow Jackets only multi-hit outing, finishing 2-for-3.
Box Score
June 3rd, 2011, 7:00pm ET
Russ Chandler Stadium, Atlanta, GA.
(4) Austin Peay vs. (1) Georgia Tech
| | | | | | | | | | | |
| --- | --- | --- | --- | --- | --- | --- | --- | --- | --- | --- |
|   | Austin Peay | POS | AB | R | H | RBI | BB | SO | AVG | OBP |
| 7 | Rolando Gautier | RF | 4 | 0 | 0 | 0 | 0 | 1 | .284 | .372 |
| 2 | Michael Blanchard | CF | 4 | 0 | 0 | 0 | 0 | 1 | .324 | .412 |
| 5 | Greg Bachman | 3B | 4 | 0 | 1 | 0 | 0 | 2 | .315 | .387 |
| 10 | John Hogan | 1B | 4 | 1 | 1 | 0 | 0 | 1 | .314 | .344 |
| 15 | Reed Harper | SS | 4 | 0 | 1 | 0 | 0 | 2 | .329 | .357 |
| 6 | Matt Wollenzin | C | 1 | 0 | 0 | 1 | 1 | 1 | .356 | .444 |
| 4 | Jordan Hankins | 2B | 3 | 1 | 1 | 1 | 0 | 1 | .360 | .434 |
| 22 | Cody Hudson | DH | 3 | 0 | 0 | 0 | 0 | 0 | .283 | .356 |
| 1 | Jon Clinard | LF | 2 | 0 | 0 | 0 | 1 | 0 | .321 | .376 |
|   | Total |   | 29 | 2 | 4 | 2 | 2 | 9 |   |   |
2B: Hogan 1(13)
HR: Hankins 1(5)
Team LOB: 3
RBI: Wollenzin 1(21), Hankins 1(32)
E: Wollenzin 1
| | | | | | | | | | |
| --- | --- | --- | --- | --- | --- | --- | --- | --- | --- |
|   | Austin Peay | IP | H | R | ER | BB | SO | BF | ERA |
| 33 | Jack Snodgrass | 7.0 | 7 | 1 | 1 | 3 | 3 | 31 | 3.32 |
| 13 | Mike Hebert | 0.2 | 0 | 0 | 0 | 0 | 0 | 3 | 3.51 |
| 29 | Zach Toney | 1.1 | 0 | 0 | 0 | 0 | 3 | 4 | 4.18 |
|   | Total | 9.0 | 7 | 1 | 1 | 3 | 6 | 38 |   |
Win: Snodgrass
Save: Toney
#p: Snodgrass 118(69 strikes), Hebert 10(5 strikes), Toney 25(15 strikes)
| | | | | | | | | | | |
| --- | --- | --- | --- | --- | --- | --- | --- | --- | --- | --- |
|   | Georgia Tech | POS | AB | R | H | RBI | BB | SO | AVG | OBP |
| 8 | Kyle Wren | CF | 4 | 0 | 0 | 0 | 1 | 1 | .341 | .407 |
| 9 | Jacob Esch | SS | 5 | 0 | 1 | 0 | 0 | 1 | .314 | .364 |
| 16 | Matt Skole | 3B | 2 | 0 | 0 | 0 | 1 | 0 | .342 | .440 |
| 24 | Jake Davies | 1B | 4 | 0 | 1 | 0 | 0 | 1 | .346 | .417 |
| 3 | Mott Hyde | 2B | 4 | 0 | 0 | 0 | 0 | 1 | .278 | .343 |
| 10 | Zane Evans | C | 4 | 1 | 1 | 0 | 0 | 0 | .268 | .326 |
| 31 | Sam Dove | LF | 3 | 0 | 2 | 0 | 0 | 0 | .325 | .389 |
| 11 | Evan Martin | DH | 2 | 0 | 1 | 0 | 1 | 0 | .194 | .237 |
| 32 | Daniel Palka | PH | 1 | 0 | 0 | 0 | 0 | 1 | .281 | .337 |
| 6 | Brandon Thomas | RF | 4 | 0 | 1 | 1 | 0 | 1 | .305 | .405 |
|   | Total |   | 33 | 1 | 7 | 1 | 3 | 6 |   |   |
2B: Esch 1(23), Dove 1(7)
Team LOB: 10
RBI: Thomas 1(27)
E: Skole 1
| | | | | | | | | | |
| --- | --- | --- | --- | --- | --- | --- | --- | --- | --- |
|   | Georgia Tech | IP | H | R | ER | BB | SO | BF | ERA |
| 19 | Mark Pope | 1.2 | 1 | 0 | 0 | 1 | 0 | 7 | 1.72 |
| 25 | Matt Grimes | 6.2 | 3 | 2 | 2 | 1 | 8 | 23 | 4.03 |
| 41 | Devin Stanton | 0.2 | 0 | 0 | 0 | 0 | 1 | 2 | 3.12 |
|   | Total | 9.0 | 4 | 2 | 2 | 2 | 9 | 32 |   |
Loss: Grimes
#p: Pope 20(11 strikes), Grimes 82(55 strikes), Stanton 5(4 strikes)