Clarksville, TN –  The 2011 Fair at Clarksville Speedway opened Tuesday night with the first night of Monster Trucks. The youngest driver in the Monster truck sport also made an appearance. 8 Year old Kid KJ maneuvered around the track in his mini Monster truck as he made his jumps as the crowd cheered on.
The fair continues tonight with round two of the Monster Trucks at the Clarksville Speedway.
Many of your favorite Monster trucks are here at The Fair at Clarksville Speedway including old time favorites the original Big Foot and Predator along with one of the early model monster trucks back when they were much smaller.
The monster trucks include the Outlaw Clydesdale, Black Night, Prowler, Ballistic, Predator and Defender. In between events there were the Quad races and many chances to will prizes.
If you have a Quad and would like to race in tonights Quad race, bring it to the fair and check with the Monster Truck folks for all the details.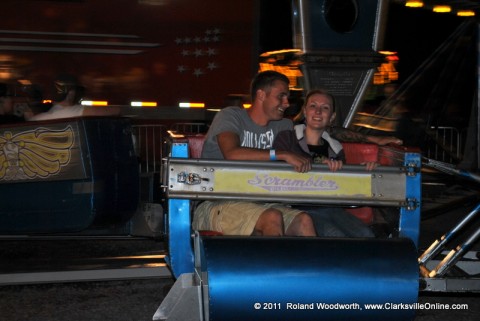 Don't forget about the midway which is run by Bell City Amusement. There are rides and games for kids of all ages…. Yes BIG kids too…. We are all still kids at heart.
With several kiddie rides that include the Carosel, Motorcycles, Mimalaya, Crazy Plane, Dragon ride, and Nascar racing to name a few.
For the Big kids, rides include the Tilt-A-Whirl, Scrambler, Drop Zone, Typoon, Scorpion and the Nitro.
Don't forget about all the food, drinks and games throught the midway area.
Tonights events include round two of the Monster Trucks in the arena along with The  Kent Family Circus ( performs 3 shows a night ) which also strolls into the Midway and the Chicken Beauty Contest.
Tonight is also  STUDENT/EDINGTON FURNATURE NIGHT – Arm Bands – $15.00 / $20.00 without Student/Edington Furnature ID – Midway & Vendor Tent opens at 6:00pm.
Photo Gallery