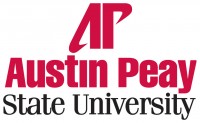 Clarksville, TN – Every fall, dozens of incoming college freshmen go off to school harboring dreams of becoming medical doctors. Some are drawn to the field because of the paycheck, while others are attracted by the excitement and emotional rewards of the health care field. They leave home with high hopes that, unfortunately, don't always come to fruition.
"We see it all the time," Rex Ameigh, chair of the Austin Peay State University Allied Health Sciences Department, said. "Students come in here with the idea that they're going to be a doctor. Then they get started and the realization comes in of all the things that must occur for that to really happen."
Students discover they need take on a rigorous course load, maintain a high GPA and, once they've earned their undergraduate degree, they must take the difficult Medical College Admission Test to get into med school.
"They start getting disheartened and try to figure out what major to change to, or in some cases they drop out," Ameigh said.
A new course offered at APSU this fall is now geared at alleviating this problem.  The three-hour elective, Allied Health Sciences 1010: Introduction to Health Care Professions, is designed to inform incoming freshmen about the various health care careers available and the requirements to enter those programs. Particularly, the class focuses on what opportunities are available at APSU, such as pre-med, nursing, medical technology, radiologic technology and other health-care-related fields of study.
"The students will be better informed from this class so they can make a decision of, 'is this really what I want to do' or 'should I look at something different?'" Ameigh said. "If they're pursuing, say, pre-med, and see themselves falling short, they don't have to give up the dream of going into a health care profession. They might still meet the requirements to go into med tech or nursing or rad tech."
Ameigh sees the new course as allowing students to develop a "Plan B" if their original strategy falls through. Rather than floundering for a semester or a year trying to decide what to do next, or dropping out altogether, they'll already have the knowledge of what other health care programs exist at APSU.
"When we talk about pre-med, we'll talk about med school, the different specialties you can go into, D.O. (Doctor of Osteopathic Medicine) School, physical therapy, occupational therapy, and what do they actually do?" Ameigh said. "What does a dental hygienist do? What do nurses do? What does a medical technologist do? And also, here's what it takes to get into those programs. Can you enter straight into them or do you have to be accepted into the program? Is it selective in nature?"
This information is expected to take the stress off students who enroll at APSU with a desire to enter the heath care field but don't truly know what their options are. The AHS 1010 class is targeted at incoming freshmen, but other students interested in the topic are also encouraged to enroll.
For more information on the class, contact the APSU Department of Allied Health Sciences at 931-221-7011.
Sections
Education
Topics
APSU, APSU Department of Allied Health Sciences, Austin Peay State University, GPA, Health Care, Physical Therapy