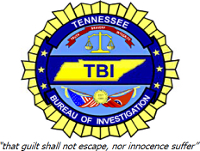 Nashville, TN – The Tennessee Bureau of Investigation today took a second TBI Top Ten Most Wanted suspect off the fugitive list today after he was captured by law enforcement at an apartment in the Smyrna, Tennessee area. Earlier today, David Burrows, a Memphis man who had been on the state's Most Wanted list for several weeks for murder was captured in Anchorage, Alaska.
28-year-old Orlando Steverson was arrested and charged with one count of first degree murder on a warrant out of Lebanon, Tennessee after he was found hiding in a back bedroom of his girlfriend's residence located at Village Place Apartments. He was located and taken into custody by TBI, US Marshals, Rutherford County Sheriff's Office and the Lebanon Police Department.
In 2007, Steverson and two other suspects shot and killed, Alonzo Robertson, in the Upton Heights housing projects after an argument over drugs. The two co-defendants in the case, Labryan Clemmons and Robert Nelson, have been arrested, charged and are currently incarcerated. Steverson was booked into the Wilson County Jail without bond until a court hearing.
For more on the story, see: TBI puts Lebanon Man on State's Most Wanted List