Clarksville, TN – On August 9th, 2011, around 12:45pm, the U.S. Bank, 3301 Fort Campbell Boulvard, was robbed. A Fort Campbell soldier, Preston Clayton, acted and was vital in the rapid capture of the bank robbers. He is a PFC assigned to: G Co 1/320, Fort Campbell, KY.

Preston Clayton was inside of the bank cashing a check when he saw a man with a backpack enter. He then heard the teller say she had been robbed. He saw the man with the backpack leaving and started to run after him.

He rounded the back of the bank and saw the robbery suspect climbing a fence. As Clayton was climbing the fence he saw the suspect get into a taxi van.  Clayton was on the other side of the fence when the van peeled out.

Clayton provided officers with a detailed description of the van and a direction of travel which was instrumental in their capture.
Robbery Update
Ted Russell Morse was served with the second Aggravated Robbery warrant and has a total Bond of: $150,000.
Terry Louis Morse is facing charges in Kentucky and is being held in the Christian County Jail.  He will be extradited and charged in Montgomery County after the charges are adjudicated.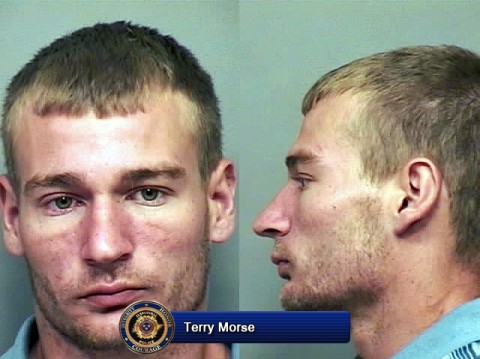 Carson Lynn Poore is still not in custody and has an Aggravated  Robbery warrant pending.
For more on the story, see: U.S. Bank and Walmart Robbery Suspects in Custody
Sections
News
Topics
Aggravated Robbery, Bank Robbery, Bond, Carson Lynn Poore, Christian County Jail, Clarksville Police Department, CPD, Fort Campbell Boulvard, Fort Campbell KY, Fort Campbell Soldier, Montgomery County, Pharmacy, Preston Clayton, robbery, Ted Russell Morse, Terry Louis Morse, U.S. Bank, Walmart