Clarksville, TN – On August 9th, 2011, cooperation from multiple law enforcement agencies and the quick thinking and bravery of a Fort Campbell soldier resulted in the arrest of men involved in the robbery of a bank and pharmacy.
On August 9th, 2011, around 12:45pm, a man walked into the U.S. Bank, 3301 Fort Campbell Boulvard, told the teller that he had a bomb in a backpack and demanded money. He was given money, fled on foot, and ran toward the back side of the bank. But, he was unaware that a 20 year old Fort Campbell soldier was in hot pursuit after him.
The soldier saw the man jump a fence and get into a taxi van. The soldier provided a clear, concise description of the van and the direction of travel to arriving officers. The van was spotted by Officer Melissa Spielhagen traveling south on Fort Campbell Boulvard near Stateline Road around 1:25pm. The van was stopped by multiple officers at 2861 Fort Campbell Boulvard near Burch Road.
Ted Russell Morse was inside of the taxi van when it was stopped. He was detained and transported to be interviewed by Detectives. In the meantime, officers were at the bank processing the scene, gathering information from a local hotel, and additional suspects were developed.
Locations for accomplices were believed to be located across the Tennessee line in Kentucky. Oak Grove Police were on scene at the bank and had offered their assistance and were already familiar with the Morse name. Oak Grove officers went to multiple locations and helped secure valuable evidence associated with the robbery.
During the course of an interview by Detective Eric Ewing and Detective Howard Gillespie, it was determined that Ted Morse had entered the bank, committed the robbery, and had at least one more accomplice, his brother Terry Louis Morse was working with him.
The investigation also revealed  that Ted and Terry Morse along with Carson Lynn Poore were linked to the August 6th, 2011 Walmart Pharmacy robbery, 3050 Wilma Rudolph Boulvard.
Around 6:26pm, Terry Louis Morse was located by Hopkinsville Police Department, taken in custody, and is awaiting extradition.
Some of the money and drugs from the robberies has been recovered.
Police are looking for Carson Poore
Name: Carson Lynn Poore (W/M)
DOB: 11/19/68
Last Known Address: 364 Ryder Avenue, Apt B,  Clarksville TN
Suspect is still at large
Pending Charge: Aggravated Robbery.
Ted Morse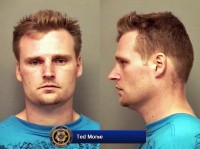 Name: Ted Russell Morse (W/M)
DOB: 7/12/80
Given Address: 15206 Cypress Court, Alpharetta, GA
Booked Into: Montgomery County Jail
Booking Time: Around 8:12 pm
Charged With: Aggravated Robbery (Walmart)
Bond: $50,000.
He is pending another Aggravated Robbery (Bank) charge.
Terry Morse
Name: Terry Louis Morse (W/M)
DOB: 11/19/68
Given Address: 309 Jennifer Street, Oak Grove, KY
Is awaiting extradition.
Pending Charges: Two Aggravated Robbery charges.
Photo Unavailable
The investigation is ongoing and more arrests are expected. The Fort Campbell soldier's name will not be released until all suspects are in custody.
The lead investigators:  Detective Eric Ewing (Bank Robbery) and Detective Howard Gillespie (Walmart Robbery).
Oak Grove Police Department has an ongoing investigation to determine if any of the above suspects were involved in their Walmart robbery.