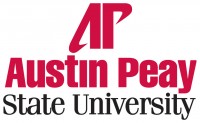 Clarksville, TN – A process used during the Civil War to develop photographs will be the focus of the next session of the Provost Lecture Series at Austin Peay State University.
Susan Bryant, professor of art at APSU, will present "Photo Alchemy: Exploring the Wet-Plate Photography Process in the Digital Age" from 3:00pm-4:30pm, Thursday, October 20th in the Morgan University Center, Room 303. All presentations in the Provost Lecture Series are free and open to the public.
This past summer, Bryant used the wet-plate collodion process to create some images. The wet-plate collodion process was invented in 1851 in England. The process involves creating a negative on glass or metal. When the image is created on glass, the glass negative can be placed in an enlarger to make gelatin silver prints, or placed on top of a black backing, creating a one-of-a-kind positive image, called an ambrotype. When the image is made on metal (black aluminum) it is called a tintype.
"This is the process used during the Civil War by Mathew Brady and his assistants," Bryant said. "It is a very complex process but is also very rewarding.
The images she created over the summer culminated in an exhibit, titled "Presence and Absence," currently at The Cumberland Gallery in Nashville through October 22nd. Work from this series has also been accepted into several international juried exhibitions: "Alterations" at A Smith Gallery in Texas, "The Poetry of Shadows" at PhotoPlace Gallery in Vermont, "Alternative Processes" at Mills Pond House Gallery in New York and an upcoming solo exhibition at the University of Evansville in Indiana.
Bryant received her B.F.A. in painting in 1976 from Indiana University and her M.F.A. in photography in 1978 from Indiana State University. She has taught photography at APSU for the past 29 years. Her personal work includes gelatin silver prints, hand-colored silver prints, digital photographs, and most recently, the 19th century processes of daguerreotypes, tintypes and wet plate collodion negatives and positives (ambrotypes). Her work has been widely exhibited across the United States in solo and juried exhibitions. She is the recipient of a Tennessee Arts Commission Fellowship and is represented by The Cumberland Gallery in Nashville.
Other sessions in the Provost Lecture Series also are planned for the academic year. All sessions are from 3:00pm-4:30pm in the MUC, Room 303 (unless noted otherwise) and include the following:
October 27th: Angelina Fowler, Center of Excellence for Field Biology
November 3rd: Dr. Dan Frederick, professor of geology and geography
November 10th: Dr. Kathrine Flower, assistant professor of sociology
November 17th: Darren Michael, associate professor of theater and dance
December 1st: Dr. Tim Leszczak, assistant professor of health and human performance
January 12th: Dr. Ellen Smyth, instructor of mathematics
January 19th: Dr. Ann Silverberg, professor of music
January 26th: Dr. Marsha Lyle-Gonga, assistant professor of political science
February 2nd: Dr. Rebecca Johansen, assistant professor of biology
February 9th: Dr. Sergei Markov, associate professor of biology
February 16th: Cynthia Marsh, professor of art
February 23rd: Dr. Christine Mathenge, associate professor of geology
March 1st: Dr. Robert Shelton, associate professor of chemistry
March 15th, MUC 307: Dr. Allyn Smith, associate professor of physics
March 22nd: Dr. Sharon Mabry, professor of music
March 29th: Dr. Cameron Sutt, assistant professor of history
April 5th: Mark DeYoung, assistant professor of art
April 12th: Dr. Tim Winters, professor of English
April 19th, MUC 103: Dr. Jeffrey Wood, professor of music
The Provost Lecture Series seeks to foster a spirit of intellectual and scholarly inquiry among faculty, staff and students.
The program will be used as a platform for APSU faculty members who are recent recipients of provost summer grants, who have been awarded faculty development leaves and who have engaged in recent scholarly inquiry during sabbatical leaves.
APSU faculty members with recent research of acclaim also will be given a platform within this series. In addition, other faculty members of local or widespread renown will be invited to lecture within this series.
For more information about the Provost Lecture Series, call Dr. Brian Johnson, assistant vice president of academic affairs at APSU, at 931.221.7992 or email him at johnsonb@apsu.edu.