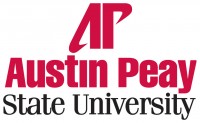 Clarksville, TN – The Austin Peay State University Department of Communication will hold its eighth annual AP Debate Forum from 6:00pm-8:00pm, Wednesday, November 2nd in the Music and Mass Communication Concert Hall. The debate is free and open to the public.
The topic for this debate is "Resolved: In order to ensure more productive citizenship, all American citizens, who have graduated high school and reached the age of 18, must immediately complete no less than two years of military service, or participate in national or international service missions."
The AP Debate Forum focuses on issues related to students and the community, and will ask students and audience members to consider and discuss positive and negative impacts of the topic. The debate will be conducted in a two-round series, with four selected students debating the assigned topic. Students and audience members, apart from the selected debaters, will have the opportunity to speak from the floor during the debate.
Everyone is encouraged to like "AP Debate Forum" on Facebook and follow "#apdebateforum" on Twitter. During the debate, the audience will have the opportunity to pose questions to the debaters and other audience members through the use of these social media. The Facebook website will also provide real time feedback regarding overall opinion on the debate topic through an online poll.
Participating debaters have been chosen from all on-campus Fundamentals of Public Speaking courses. Participation from all on-campus public speaking students is highly encouraged. Public speaking is a course required by the Tennessee Board of Regents for all students. The course helps students in every major and at every stage in their academic career. The AP Debate Forum is an attempt to engage students outside the classroom, as well as to provide them with a platform to use skills and competencies learned in public speaking courses.
For more information, please contact Jessica Morris at or 931.221.6824, or Stacie Mumpower at .