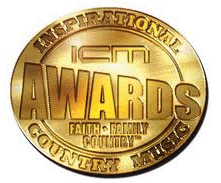 Nashville, TN – Music icon Ricky Skaggs was named Entertainer of the Year and Musician of the Year at tonight's 17th Annual ICM Faith, Family & Country Awards Show.
Held at Nashville's Schermerhorn Symphony Center, the star-studded evening included a memorable performance of "Somebody's Prayin'" that featured Skaggs, John Elliot and six members of the Nashville Symphony Orchestra.  The track is from Ricky's July-issue CD, "Country Hits Bluegrass Style".  The show was co-hosted by GAC-TV's Storme Warren and Inside Edition's Megan Alexander.
This year marks Ricky's 50th in the entertainment field, and his rise to the top has been unparalleled in music history. From his days as a valued band member for artists like Ralph Stanley and Emmylou Harris, to the release of his first solo recording in 1981, Skaggs has taken his lively, distinctively American form of music out of isolation and into the hearts of audiences across the country and around the world.
Skaggs was honored to be chosen from among the very best of musicians, and says: "It means a lot to have been included with pickers whom I so admire. I am honored to have won Musician of the Year." Credited with "single-handedly saving country music" in the mid-80s by renowned guitarist and producer, Chet Atkins, Skaggs has since blurred the edges of various genres, but maintained his unique musical individualism.
Ricky was honored by Power Source Magazine earlier this week at their # 1 Awards Party held at the Wildhorse Saloon for "Someday Soon," a hit from last year's MOSAIC album.
Skaggs has previously won the following ICM Awards: Musician of the Year, Christian Country Music Association – 1994, 1995; Musician of the Year – 2008; Inspirational Bluegrass Artist (with The Whites) – 2008; Mainstream Country Artist (with The Whites) – 2008; Mainstream Country Artist – 2009 and Inspirational Bluegrass Artist – 2010.  The 14-time Grammy® winner has also been honored with eight Academy of Country Music Awards and eight Country Music Association Awards.
"I always try to entertain folks with good clean fun and stories from my youth," says Skaggs of the Entertainer of the Year nod. "I always try to bring the gospel message of hope in Jesus Christ to our shows as well. I think now more than ever, people all over the country need hope. I'm very thankful to have won this award. I certainly look up to all of the people in this category. They are taking the gospel out to the folks who really need to hear it. Thanks again so much. It means a lot to me."
Ricky Skaggs & Kentucky Thunder hit the road next week for one show in Louisiana before heading North for seven engagements in Canada, November 4th – 12th. They return stateside for shows in Virginia and Pennsylvania before Ricky embarks (with The Whites and family) November 28th on A Skaggs Family Christmas Tour.
The seasonal tour, the entourage's eighth in as many years, is in support of "A Skaggs Family Christmas Volume Two", which was released last month. The 10-song disc features both studio and live recordings, and includes a bonus DVD filled with 26 performances of traditional seasonal favorites and new compositions. A Skaggs Family Christmas Tour concludes with an evening at Nashville's Schermerhorn Symphony Center on December 22nd.
Sections
News
Topics
Chet Atkins, Country Hits Bluegrass Style, Emmylou Harris, ICM Faith Family and Country Awards, Inside Edition, Megan Alexander, Nashville Symphony Orchestra, Nashville TN, Ralph Stanley, Ricky Skaggs, Storme Warren