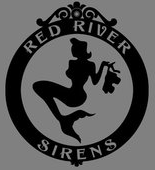 Clarksville, TN – Attention motorcyclists! Red River Sirens present "Lend a Hand — Win a Hand"! Clarksville Roller Derby's Red River Sirens will host a fundraiser poker run on Saturday, November 12th, 2011. All bikes are welcome. The event begins and ends at The Bent Wrench Roadhouse, 4724 Ashland City Road, Clarksville. Rider registration starts at 10:00am. The kickstands will go up and the bikes will begin to ride out at 11:00am.
The entry fee of $20.00 per motorcycle includes one poker hand and a free post-ride party with music, prizes, food and beer. Back seat passengers are welcome to participate for a $5.00 fee. Riders can receive additional poker hands for $5.00.
A portion of the proceeds from "Lend a Hand – Win A Hand" will benefit Operation Once in a Lifetime, a 501 (c) (3) non-profit organization providing free financial assistance and support to soldiers regardless of rank, race, branch of service, physical condition or deployment status.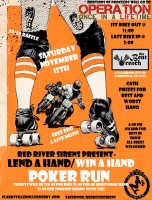 The poker run consists of a route with five stops beginning and ending at The Bent Wrench Roadhouse. A playing card will be issued to registered participants at each stop. At the last stop, the rider will have accumulated a poker hand, which will be compared to other hands in the event. Prizes will be awarded for the Best Hand, Worst Hand, and nicest looking bike. There will also be a 50/50 raffle.
Red River Sirens are the first active roller derby team in Clarksville. Hot off their first season of competition, the skaters are now raising funds and scheduling their 2012 season.
About Clarksville Roller Derby League
Clarksville Roller Derby formed in 2010 as the first active roller derby league in Clarksville. Red River Sirens are the League's first team, and just finished their first season of competition. To qualify for the team, skaters are required to pass the minimum skills test established by the Women's Flat Track Derby Association (WFTDA). In addition to team and individual athletic training, skaters hold positions on various committees to keep the all-volunteer organization running. The league is a non-profit organization, operates under the guidelines of the Women's Flat Track Roller Derby Association (WFTDA) and is run completely by volunteers. The team's website is www.ClarksvilleRollerDerby.com.
About Roller Derby
Roller Derby is an American-made contact sport that originated in the early 1900s. The sport was highly popular in the 1970s when professional matches were televised and the sport shared a reputation for staged action. Today's game, which involves higher levels of strategy, is currently regaining popularity all over the country. Teams are currently active in Nashville, Memphis and Knoxville.??Roller Derby is experiencing a resurgence of popularity. Today's teams are all-female, self-organized, and feature athleticism and campy outfits. Men are welcome to participate as coaches, referees, announcers and in team support roles. The sport is governed by the rules of the Women's Flat Track Derby Association (WFTDA), which sets the rules and determines the baseline skills required of participants. Visit www.wftda.com for more information.
About Operation Once in a Lifetime
Operation Once in a Lifetime's mission is to make the dreams of U.S. Soldiers and their families come true by providing free financial and morale support to U.S Service members, their families and veterans regardless of rank, deployment, physical condition or branch or service. To learn more, visit http://operationonceinalifetime.com