Austin Peay vs. Rochester (MI)
December 17th, 2011 | Dave Aaron Arena | Clarksville, TN
"We won a game yesterday. If we win one today, that's two in a row. We win one tomorrow, that's called a winning streak."– Lou Brown, from the movie Major League.

Clarksville, TN – One step at a time. After getting off to a horrendous start to open the 2011-12 season, Austin Peay is hopeful it has turned the corner as it attempts to resurrect the wreckage of a wayward November.
After finally ending a nine-game losing streak, December 5th, the Governors turned around and stunned Tennessee, 74-70, last Saturday, for their first victory against the Volunteers and APSU's first against a Southeastern Conference member since the 1991-92 season.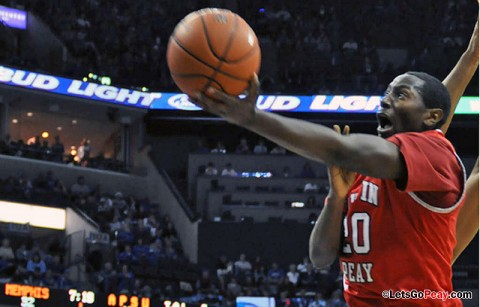 Now the Govs will seek to make it three straight victories by playing host to NAIA stalwart Rochester (MI), 7:00pm, Saturday. The Warriors, after opening the season at 8-0, have lost six of their last seven games, all on the road. Their most recent defeat came against hometown rival Oakland, Tuesday. That was the same Oakland team that beat the Govs a year ago and Tennessee as well earlier this season.
Tuesday's game stayed close through the early stages of the second half, with Oakland pulling away late. Do-everything 6-4 forward Dramel Hogan had 25 points and 10 rebounds in that game and is averaging 15.2 ppg and 7.6 rpg. Center Rick Doran is averaging 12.6 ppg and 6.9 rpg.
The Governors, meanwhile, fashioned a balanced attack in its win against Tennessee, with a quartet of seniors–Josh Terry, TyShwan Edmondson, Melvin Baker and John Fraley–accounting for all 21 points in a game-ending 21-6 run.
It was Fraley's first appearance since the season opener because of a concussion. In playing a surprising 29 minutes, Fraley finished with 12 points and five rebounds. Terry, who was named OVC Player of the Week and College Sports Madness Mid-Major Player of the Week, led APSU with 22 points, five assists and four steals.
Governors Pardon
This is Austin Peay's 80th season of basketball.
Dave Loos, APSU's all-time winningest basketball coach, also is the OVC's all-time wins leader with 353 victories. He also has 435 career coaching wins.
The Dave Aaron Arena playing floor was named Dave Loos Court, Summer 2007. Loos is believed to be one of only three current Division I men's coaches who are coaching on courts that bear their respective names–Duke's Mike Krzyzewski and Syracuse's Jim Boeheim–are the other two. Valparaiso's Homer Drew, who retired after the 2010-11 season, had the floor named after him last season.
Since 1993-94, Austin Peay has finished no worse than fifth in the OVC standings.
Austin Peay has reached at least the OVC tournament semifinals in 13 of the last 17 years.
Austin Peay has made 27 straight appearances in the OVC tournament.
What You Should Know…
The Series: This is the first meeting between Austin Peay, a member of the Ohio Valley Conference, and Rochester, a member of the NAIA and the United States Collegiate Athletic Association.
Deeper Meanings…
What A Win Would Mean: The Govs would gain their third 2011-12 victory. They would win their third straight game. They would improve to 3-9. It would make the Govs 3-1 in December after going 0-8 in November. It would be APSU's first win in the series. It would give Loos his first victory against Rochester. It would make Loos 1-0 against Warrior coach Kirk Pleasant. It would be Loos' 436th career coaching victory and his 353rd APSU win.
What A Loss Would Mean: The Govs would fall to 2-10 on the season. It would snap the Govs' two-game winning streak. The Govs would fall to 0-1 in the series with the Warriors. It would be head coach Dave Loos' 353rd career loss and 300th Austin Peay defeat.
Terry Earns Honors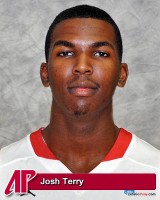 Josh Terry, who played a major role in two APSU victories with late-game heroics, was named OVC Player of the Week along with College Sports Madness Mid-Major Player of the Week. Terry played a significant role in Austin Peay wins against Arkansas State, an 86-82 overtime victory, last Monday, and Tennessee, a 74-70 come-from behind verdict. He was APSU's scoring leader in both contests, tossing in 22 points against Arkansas State and 20 versus the Volunteers.
Against Arkansas State, he finished 9-of-15 from the floor, but really surfaced in overtime, scoring the period's first two buckets before sealing the win with a free throw with 2.3 seconds left. He scored six points in the extra session.
Then in the Governors' first-ever win against Tennessee, Terry was 6-of-10 from the floor and 8-of-10 from the free-throw line. Again, Terry emerged down the stretch. He scored nine of his second-half 14 points in the final 6:27 as Austin Peay ended the game on a 21-6 run. The Henderson, KY, native scored the go-ahead basket with 1:05 remaining and hit the game-clinching free throw for the second consecutive game, this time with 2.4 seconds left after grabbing a defensive rebound. In addition, Terry tallied a team-high five assists and four steals.
Fraley Returns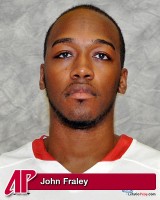 After suffering a concussion with 2:58 left in Austin Peay's season-opening game at Middle Tennessee, center John Fraley finally returned to the lineup, Saturday, against Tennessee. His impact certainly was noticeable and not just statistics-wise. Surprisingly, Fraley was able to play 29 minutes against the Vols, scoring 12 points on 5-of-6 shooting.
In fact, he scored two of the Govs' first three buckets against Tennessee. In addition, Fraley grabbed five rebounds and blocked two shots, one block coming late as the Govs rallied with a 21-6 run to end the game. His inside presence took the pressure off the other Govs both offensively and defensively. In fact, APSU was able to shoot better than 70 percent from the floor in the second half.
Road Warriors
Through Monday Austin Peay was tied for third as far as playing the most road games (seven) so far this season. Only Long Island and St. Francis (N.Y.) have played more (eight) road games than the Governors.
Knee Injury Halts Campbell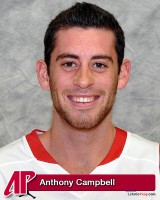 For a second straight year Anthony Campbell's basketball season has ended because of a knee injury. Campbell suffered lateral and medial meniscus tears in the left knee December 5th in the Govs' overtime win against Arkansas State.
In preseason, the APSU junior forward tore the anterior cruciate ligament in his left knee, the same injury to the knee that ended his 2010-11 season and allowed him to gain a medical redshirt. After APSU's medical team met with Campbell and his family, it was decided to brace the junior forward's knee to permit him to compete in the 2011-12 season's first third.
However, the most recent injury no longer will allow him to continue play. After allocating time for swelling to reduce along with building strength in the muscles surrounding the injured areas, the Edwardsville, IL, native is expected to undergo surgery in the next three to four weeks.
Long Time Waiting
Austin Peay's 74-70 win against Tennessee was the first in nine attempts against the Volunteers. It also was only the third APSU win against an SEC team and the first since the Govs defeated Mississippi State in 1991-92.
Senior Leadership
The Govs ended the Tennessee game on 21-6 run, including the final eight points. All 21 points were scored by seniors Josh Terry (9 points), TyShwan Edmondson (7), Melvin Baker (3) and John Fraley (2).
Heating Up?
Austin Peay shot a season-best 59.1 percent (26 of 44) against Tennessee, including a seething-hot 72.7 percent (16 of 22) from the floor in the second half. It was the second straight game APSU shot better than 50 percent after shooting less than 40 percent in seven of the previous nine games.
Line-Up Shuffle
With John Fraley back from his concussion, he was reinserted into the starting lineup with fellow seniors Melvin Baker and Josh Terry up front along junior point guard Jerome Clyburn and freshman guard Herdie Lawrence. That was the seventh different starting lineup used by the Governors in 11 games this season. APSU used seven different lineups for the entire 2010-11 season.
Bake And Shake
Senior forward Melvin Baker has scored in double figures in six straight games and is averaging 15.3 ppg, shooting 57.9 percent from the floor, during that span. He recorded his season's second—and fourth career—double-double against Arkansas State with 21 points and 10 rebounds.
Baker connected on his season's first two three pointers against Tennessee, including one with 2:08 left that sliced the Govs deficit to one point.
Ty Die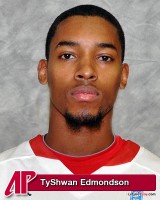 TyShwan Edmondson snapped a string of three consecutive single-digit performances with 19 points against Tennessee, including seven points in the final 6:27–he finished 7-of-13 from the floor.
That came on the heels of the senior guard making a huge three pointer in overtime against Arkansas State.
Trending Up
After shooting 59.4 percent from the free-throw line in the first six games, the Govs have knocked down 73.3 percent of their free throws over the last five games. The Govs shot 77.3 percent (17 of 22) at Tennessee. As a result, the Govs have improved their overall free-throw percentage to 66.0 percent.
Another Injury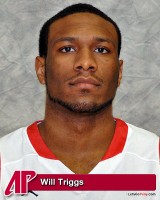 Sophomore forward Will Triggs was forced to leave APSU's game at Tennessee in the second half with a groin strain.
His availability for the Rochester game is uncertain.
Three-Point Woes
When Austin Peay connected on five three pointers against Arkansas State and then five more (out of eight attempts) versus Tennessee, it was the most three pointers by the Govs since they had six in the season opener at Middle Tennessee. In fact, between the MTSU and Arkansas State contests, the Govs connected on just 26 three pointers combined, including only a pair at Lipscomb (November 28th) and Memphis (December 3rd).
Even after the 5-of-8 showing at Tennessee, the Govs still are shooting just 26.6 percent from three-point range. After making five three pointers the last two games, the Govs remained unranked in three-point field-goal percentage. Why? To be ranked by the NCAA a team must average five made three pointers. The Govs are averaging only 3.8 made three pointers per game this season.
No Joshin' Around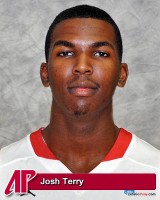 After scoring in double figures in Austin Peay's first six games this season, senior forward Josh Terry struggled through a scoring slump over the next three games, being held to single digits in all three.
He snapped that slump against Arkansas State in the overtime win, scoring a season-best 22 points on 9-of-15 field goal shooting. He also scored six overtime points, the first four and the last one to seal the verdict.
Next Game
Govs set to renew rivalry with Belmont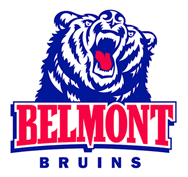 The future OVC foe will be Austin Peay's next opponent, 7:30pm, Wednesday when the Govs play host to Belmont in the first game of a home-and-home series this season. The Bruins are off to a 7-3 start and are already 2-0 in the Atlantic Sun, where they are the overwhelming choice to repeat as champions.
Guards Kerron Johnson (14.4 ppg) and Ian Clark (11.8 ppg) lead a balanced attack that also features a pair of prominent post players 6-9 Scott Saunders and 6-10 Mick Hedgepeth inside. The Bruins are averaging 9.5 three pointers per game and tossed in 14, Thursday night, against Troy.