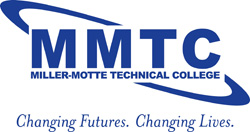 Clarksville, TN – If there is a student in your family or your friend is going to school and you have always wondered what is going on at their school, now is your chance to find out. Miller-Motte Technical College is holding a "Team U" open house Saturday, January 14th, 2012 from 10:00am until 2:00pm.
This open house is for family, friends, and all of the people who support students in various ways by helping them succeed in their college goals at Miller-Motte.
Students will be able to show their supporters the programs offered in their chosen field, and the path they are on making their career dreams come true. Every department will be represented and Career Services will be there to discuss job placement choices in each field. Job placement is a life-long benefit for Miller-Motte graduates and the Career Services team works with each student to prepare them for the interview process.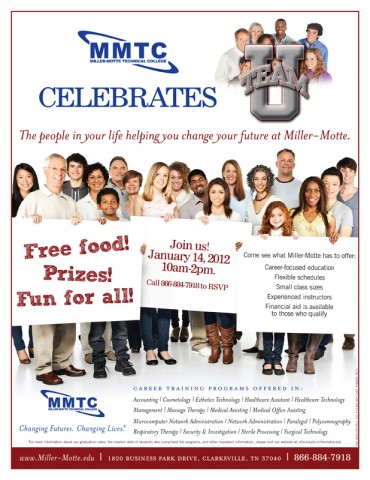 Each student enrolled at MMTC will participate in mock-interviews, discuss appropriate interview attire, and receive résumé writing instruction, résumé review, and revision if needed. Career Services is the final step in securing that first job in a new career.
This event is open to the public so if you are thinking about going to school, returning to school, or changing your career, "Team U" open house on Saturday is the place to be. "Team U" will include live demonstrations, program information, refreshments, campus tours, and an hourly raffle. Don't miss this opportunity to see how enrolling in a program at Miller-Motte can change a future and change a life.
Miller Motte Technical College is located at 1820 Business Park Drive off Dunbar Cave Road. Call 931.553.0071 if you want more information about this event or about the programs that are offered.
About Miller-Motte Technical College
Miller-Motte Technical College is a reputable leader in private career education. Our core mission is to provide students with an education delivering real-life career skills and dedicated placement assistance to successfully start their new career. Miller-Motte offers Associate Degrees, Diplomas and Certificates in fields including: Cosmetology, Esthetics, Respiratory Therapy, Healthcare, Massage Therapy, Paralegal and Network Administration. Please visit us online at www.miller-motte.com for more information. 
At Miller-Motte Technical College, We Change Futures, We Change Lives!