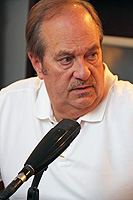 Clarksville, TN – I remember when the controversial CDE referendum passed.  It was a heated debate.  Should our electric utility get into the cable business?
Yep.
We hired the guy we thought was going to take us there.  The captain of the ship.
Rick Ingram.
This week, a grand jury indicted Mr Ingram on 36 counts of fraud.  If you read the indictment, it will make your head spin.  This was a busy little beaver.
It makes us aware that while we THINK we're doing the right thing, and making the right choice, you never know.
A headhunter recommended Ingram to the CDE power board.  He was thoroughly investigated.  He had no "red flags" in his past.  He passed the interview and was hired.   In just a short period of time, he was hard at work, scheming to defraud the citizens of Clarksville Tennessee.
Allegedly.
He did so many things that were wrong, it has set CDE Lightband back several years in their quest to be a solid and profitable broadband company.
And we thought we were so smart.
I hope while we're playing politics in our community, and protecting our own turf, we realize that you can never be too careful.
We should embrace the citizens of our city who are willing to contribute, and make Clarksville a better place.  To quit getting caught up in who gets their way, or who did this or that. To build up and quit tearing down.
Rick Ingram saw a prime opportunity to take advantage of a situation in a city that was too busy with itself to notice.
Allegedly.