APSU Sports: Austin Peay Lady Govs Tennis

Birmingham, AL – Austin Peay State University women's team lost, 6-1, to Samford, Friday, in the first of two weekend matches in Birmingham, AL. The Lady Govs play UAB , Saturday, at the Samford Tennis Complex to wrap the trip.
Senior Vanja Tomic was the Lady Govs lone winner in Friday's action. Tomic defeated Kristin Lewis in straight sets to win her third straight match.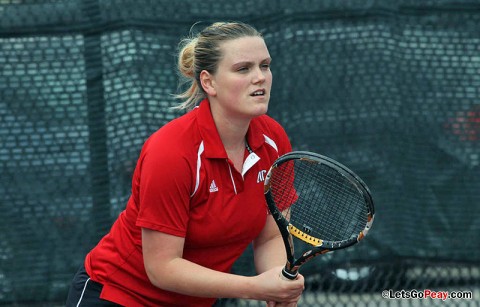 The Lady Govs lost the doubles point to open the day, however, playing close at Nos. 1 and 3. Tomic and freshman Alison Carre lost 8-5 at No. 1, while Sophomore Andra Cornea and freshman Vanessa Tavarez fell 8-6 at No. 3.
Samford's depth proved overwhelming for the young Lady Govs team as Austin Peay managed on three games in the bottom two singles matches. Carre overcame a rough first set, but dropped the second set 7-5.
UAB comes into Saturday's match looking for its first win after falling to Middle Tennessee and Louisiana-Lafayette to open the season.
Samford 6, Austin Peay 1
Singles competition
1. TOMIC, Vanja (APSUW) def. Kristin Lewis (SAM-WT) 7-5, 7-5
2. M.Janse Van Rensburg (SAM-WT) def. CARRE, Alison (APSUW) 6-2, 7-5
3. Stephanie N'tcha (SAM-WT) def. Di SALVO, Ornella (APSUW) 6-3, 6-1
4. Rebecca Kirven (SAM-WT) def. KURKA, Weronika (APSUW) 3-2, 99-0
5. Lindsey Mallory (SAM-WT) def. TAVAREZ, Vanessa (APSUW) 6-1, 6-0
6. Emily Mallory (SAM-WT) def. CORNEA, Andra (APSUW) 6-0, 6-2
Doubles competition
1. Kristin Lewis/Lindsey Mallory (SAM-WT) def. CARRE, Alison/TOMIC, Vanja (APSUW) 8-5
2. Rebecca Kirven/M.Janse Van Rensburg (SAM-WT) def. KURKA, Weronika/Di SALVO, Ornella (APSUW) 8-2
3. Stephanie N'tcha/Adri Lochner (SAM-WT) def. CORNEA, Andra/TAVAREZ, Vanessa (APSUW) 8-6