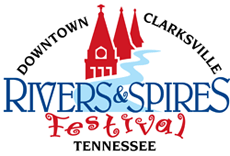 Clarksville, TN – Road closures for this week have been announced for the 10th Annual Rivers and Spires Festival in downtown Clarksville.
Also, starting the morning of April 19th, parking will be restricted in some downtown areas. There will be orange "No Parking" bags placed over meters in the restricted parking areas.
The Following Streets Will Be Closed
Wednesday, April 18th Beginning at 7:00am
Public Square in front of F&M Bank
Thursday, April 19th Beginning at 7:00am
All of Public Square
Franklin Street from First Street to Public Square
First Street from Franklin Street to Main Street
Strawberry Alley.
Friday, April 20th Beginning at 7:00am
On Friday, Downtown will be blocked off from Public Square to Fourth Street and Madison Street to Main Street.
The streets will be closed until Sunday morning, April 22nd, at 7:00am.
Parking
Available parking includes, Cumberland Plaza; APSU lots off University Avenue; First Baptist Church lot off of Commerce Street; bank lots beginning Saturday. Handicapped parking is available in the parking garage off Commerce Street in front of the Montgomery County Sheriff's Department on the first level. It is accessible from Riverside Drive.
Please be mindful of the private and residential parking in downtown area.
About the Rivers and Spires Festival
Limited seating is available around the event. Festival-goers are urged to bring their own folding or camping chairs. It is also recommended that attendees buy their food and drink tickets early to avoid long lines. Tickets for food and beverages will go on sale at various booths throughout downtown when the Festival opens. Recycle bins will also be placed throughout the Festival.
Festival Hours
Date
Times
Thursday, April 19th
5:00pm–10:00pm
Friday, April 20th
5:00pm–11:00pm.
Saturday, April 21st
10:00am–11:00pm.
The Festival will take place rain or shine.
The 10th Annual Rivers and Spires Festival, April 19th-21st in downtown Clarksville, is free and open to the public. The Festival features six stages of music and entertainment, arts and crafts, marketplace, food vendors, and activities for all ages.
For more information and a complete schedule, visit www.riversandspires.com.
Sections
News
Topics
APSU, arts and crafts, Austin Peay State University, Clarksville TN, Commerce Street, Downtown Clarksville, Entertainment, F&M Bank, First Street, Food, Fourth Street, Franklin Street, Madison Street, Main Street, Montgomery County Sheriff's Department, Music, Public Square, Rivers and Spires Festival, Riverside Drive, Road Closures, Strawberry Alley, University Avenue