Austin Peay Women's Tennis vs. Eastern Illinois
Friday, April 20th, 2012 | Start: 2:00pm
Nashville, TN | Centennial Tennis Center


Clarksville, TN – The fourth-seeded Austin Peay State University women's tennis team will face sixth-seed Eastern Illinois, 2:00pm, Friday at the Ohio Valley Conference Tennis Championships, being played at Nashville's Centennial Tennis Center.
Austin Peay is geared up to make a run in the conference tournament, looking for first-team All-OVC selections junior Vanja Tomic and freshman Alison Carre to lead the charge. The Lady Govs will need to show a marked improvement in doubles – where they went 16-11 in during OVC play – as well as more consistency in singles across the board.
"We had a good result against Eastern Illinois in the season," head coach Malik Tabet said. "The players are ready for the challenge again and looking forward to the match. We have to prepare to face a talented team. As young as we are, we have to be ready to play tough tennis. We've got a message to send to the conference and it starts Friday."
The OVC tournament format is slightly altered from season play. Doubles competition, played as one decision, is first, but when either team records its fourth point the match is complete.
The Lady Govs have come a long way since season's start after opening with seven straight losses before a 4-3 win against Belmont, February 24th. A Spring Break trip comprised of three matches in four days seemed to be the turning point for Tabet's inexperienced team.
Throughout the OVC season, it was almost automatic to get wins from Tomic at No. 1 singles and Carre at No. 3 singles. Tomic went 7-1 against league opponents while Carre was 8-1.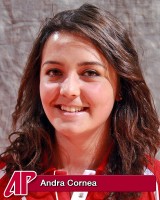 A catalyst for the Lady Govs could be found either in doubles or at No. 4 singles in sophomore Andra Cornea. Austin Peay is 7-1 when they win the doubles point and 6-0 when Cornea wins at No. 4 singles.
Austin Peay defeated Eastern Illinois, 5-2, March 27th, in a match where the Lady Govs dropped the doubles point, but won five of six singles matches with the only loss coming at No.5.
The Panthers match up well with the Lady Govs on paper. Janelle Prisner and Merritt Whitley have a 7-2 mark at No. 1 doubles, while the bottom two doubles teams have seen a number of combinations.