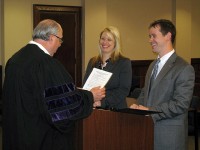 Clarksville, TN – This spring marks the culmination of years of studies and the beginning of new careers for local siblings Jacob W. Fendley and Elizabeth Fendley Hahn.
Graduates of the 100th graduating class at the Nashville School of Law, Jake and Elizabeth made history by being the first siblings to simultaneously graduate.
Following graduation, both applied and passed the examination for the Tennessee Board of Law Examiners.
On April 24th, the Honorable Judge Ray Grimes swore in the two new attorneys before a small group of family members.
During their time in law school Mr. Fendley and Ms. Fendley Hahn served as law clerks in the law office of their father, Mart G. Fendley. They are now practicing along side Mart, making this a family law firm.
Jake and Elizabeth are accepting new clients and can be reached at their office located at 128 Public Square in historic downtown Clarksville. Appointments can be made by calling 931.245.HELP or 931.245.4357.