Clarksville, TN – On June 15th, 2012, around 1:00am, Clarksville Police Officers responded to a suicidal person call at 101 East Street. The caller told 911 call takers he was going to hurt himself and had several loaded guns inside of the residence.
When officers arrived, they could hear objects being broken inside of the house. The 911 call takers told the man, Jonathan Lamon, that officers were outside of the residence. He turned off the porch and living room lights, went outside, and discharged a rifle round into the air.
Officers could see the muzzle blast from the rifle but could not get a good view of Lamon because of the darkness.  He went back inside, put the gun away, and came back outside.
The officers were still unable to see him clearly, but he moved toward Officer Larry Harris, who was able to see that he was now unarmed and took him in custody.  There was a spent shell casing found near where Lamon had been standing on the porch.
Jonathan Lamon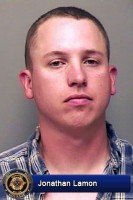 Name: Jonathan Austin Lamon (W/M)
DOB: 11/5/83
Given Address: 101 East Street, Clarksville, TN
Arresting Officer: Larry Harris
Charged With: Aggravated Assault
Booked Into: Montgomery County Jail
Bond: $5,000.