Montgomery County, TN – The latest business to become Clarksville-Montgomery County Green Certified is First Choice Moving and Storage. The First Choice team has focused on reducing the amount of electricity, consolidating trips to save time and fuel, as well as reusing and recycling.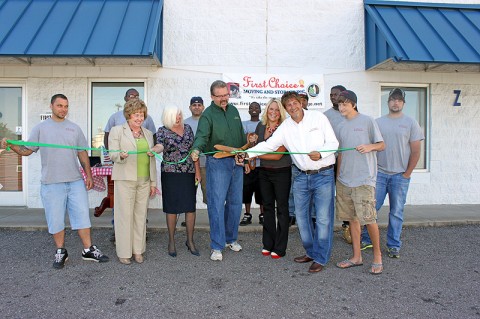 Jessica Swearingen, office manager for First Choice, exudes enthusiasm about the changes they have made. "I've worked with our packaging vendor to coordinate trips so they are only picking up or dropping off when they are in town and we cut down greatly on our electricity use. One of the first changes I made was turning the light to our sign off during the day which saved us money immediately."
Montgoomery Mayor Carolyn Bowers could certainly relate this change, as she shared one of the County's success stories with Swearingen, "As I was leaving late one evening I noticed all of the lights on in the courts center and worked to change the shifts of our custodial staff so that there was no longer a night shift. This single change saved the county more than $200,000 annually. Your commitment proves that no matter what business you are involved in, you can always find ways to green your practices. I applaud First Choice Moving & Storage for taking such initiative."
Owner Kenny Lieberstein stated, "I'm glad we became Green Certified because it is good for business, great for involvement and it is a good way for us to give back to the community. It's something more businesses should consider. People like the fact that we are doing this."
"Our huge goal is to become completely box free by renting heavy duty plastic totes rather than cardboard. This is going to save our company a lot of money in the long run because we will not be buying any material at all. I appreciate that our community supports this type of initiative also in the schools. Even our children come home and encourage us to recycle," said Swearingen.
First Choice Moving and Storage specializes in taking the stress out of residential and business moves. They have been in business since 1997 and are locally owned by Kenny Lieberstein and Tom Flores. For more information about this Clarksville-Montgomery County Green Certified Company, visit http://www.firstchoicemovingandstorage.net/ .
For information on how your business could participate in the Green Certification Program, contact Michelle Newell at