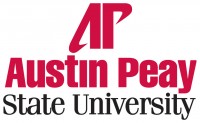 Clarksville, TN – The painter Marvin Posey was one of the most promising young artists to emerge from Tennessee in years, with his work appearing in major galleries nationwide and in the private collections of individuals such as former President Bill Clinton and former Vice President Al Gore.
But in 2003, at the age of 38, Posey died of a massive heart attack.
Since his untimely passing, Posey's family has donated several of his celebrated works to his alma mater, Austin Peay State University. And a recent gift of three paintings to the school's Wilbur N. Daniel African American Cultural Center will now create a centralized spot for art enthusiasts and community members to view his works.
"We have these pieces donated by Marvin Posey's family, and another on loan from the library," Henderson Hill, AACC director, said. "We're coordinating to structure a Marvin Posey area in the Center where we'll have four pieces on display."
The new area will join an already impressive gallery space within the Center. Sculptures and paintings by both amateurs and professional artists line the walls, along with works brought from Africa by alumni and faculty. Shortly after the donation of the Posey pieces, the center received another notable gift by local artist and APSU alumnus Howard Brown.
Brown previously donated an extraordinary marble and wood sculpture, titled "John 10:11," to the cultural center. That was 12 years ago. Earlier this spring, he stopped by campus to talk with Hill about the work, when he offered to give the center another sculpture.
"He pulls out an iPhone and says, 'Here's the artwork I've done,'" Hill recalled. "I picked one out and he said, 'OK, I'll bring it back.' An hour later, he brings it by."
That piece, titled "John 14:26," is a striking black granite sculpture now on display in a glass case within the center. Hill hopes these new works will motivate members of the local community to visit the center.
"We want people to know we have them and come and look at them," he said.
Information on the Center, such as hours of operation and a listing of artworks in its collection, is available online at www.apsu.edu/aacc.