Mir Ali has two recent CDs that are must haves for your collection. "Dances and Romances" is an aural treat that stimulates your romantic impulses and should be always listened to with your lover–or if you have no lover, your pet! "Amistad" is a grouping of dances and compositions written from late 1700s to 1992; featuring such diverse selections as "Csardas" by Monti to Paganini's "Cantabile" to "libertango" by Astor Pizzolla, this CD shows the versatility that Mir Ali has perfected.
Pakistani-born Mir Ali won his first competition at age 13. His performance is flawless. You hear no scrapings or sliding screeches in any song, only pure music that treats your ear to mesmerizing delight.
Mir is a fluent performer of flamenco guitar, an experienced jazz stylist, a trained practitioner of North Indian classical music. He was the featured Classical Guitar Workshop Co-Director and Pre-Collegiate Competition Chair for the Austin Peay State University Summer Guitar Workshop in 2010.
Not only a guitar virtuoso,  Mir Ali is a composer who has written for television commercials, theater, radio and movies. His most recent compositions were for "Roots and Branches, a documentary that won the Film Advisory Board "Award of Excellence."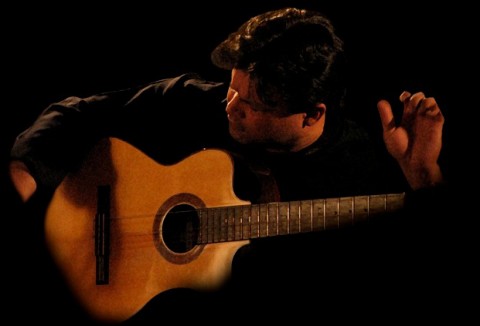 A master teacher, Mir Ali has toured recently in Canada, Italy, Spain, Romania and India as well as throughout the United States. He also is an adjudicator and clinician in guitar competitions and festivals throughout the world.
Spending his time equally when not touring between Buffalo, New York, and Pittsburgh, Pennsylvania, Mir also serves as Director of the Amherst School of Guitar. He is past President of the Buffalo Guitar Society and has been Artistic Director of the Rantucci International Guitar Festival and Competition for the past 15 years.
He has even performed at Shea Stadium in New York City at the opening ceremonies of the Mets baseball series.
Considered one of the leading guitarists of our time, Mir Ali's CDs are perfect to listen to as you are driving from one place to another. The soothing sounds make the miles melt away and help relieve your stress in spite of the maniacal hordes of drivers around you.
"Dances and Romances" features a collection of Nuevo Flamenco and classical works, jazz standards with vocalist Beth Aschbacher, and two new original compositions.
"Amistad" is performed with members of the Buffalo Philharmonic Orchestra. This album features solo works as well as several chamber music works of the masters.
Mir Ali is represented by Jaffar Shah Management of New York and Performing Arts Management by special arrangement with Leona Zachary.
If you haven't heard this virtuoso, it's time you indulged yourself in this world of pleasure. You won't be sorry.