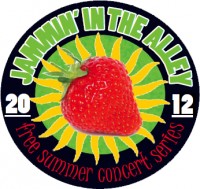 Clarksville, TN – The City of Clarksville together with U.S. Bank will be Jammin' in Strawberry Alley again on Friday, July 20th, 2012. Join us for this month's free concert and "Night Market", featuring more than a dozen vendors from Clarksville's weekly Downtown Market. Vendors will be set up from 5:30pm to 8:30pm, and the concert will begin at 7:00pm.
Acoustic Night will feature performances by local artists, Michael Jacobs, Lydia Walker, Dustin Overbeek, Rebecca Forehand, and Freight Train.
In addition to the live music and market vendors, downtown restaurants will offer outdoor dining for Jammin' in the Alley patrons. Come ready to eat, dance and shop!
Strawberry Alley will be closed to through traffic starting at 1:00pm on Friday. Starting at 3:00pm, the lower employee parking lot of City Hall will be closed. However, drive-throughs for U.S. Bank and Regions Bank will be accessible, as well as the upper City Hall parking lot.
Special thanks to our sponsors for their support to make free outdoor concerts possible. Jammin' in the Alley sponsors include The Leaf-Chronicle, Clarksville Family Magazine, and Lamar Advertising.
For more details on Jammin' in the Alley, please contact the Clarksville Parks and Recreation at 931.645.7476 or visit www.parksafterdark.com .