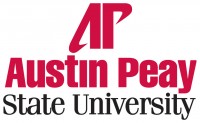 Clarksville, TN – Several faculty and staff members at Austin Peay State University announce their recent professional and scholarly activities.
Terence Calloway, chief of police, and Dr. William Cox, executive director of the Austin Peay Center at Fort Campbell, are members of the Leadership Clarksville Class of 2013.
Dr. Thomas King, professor of music, attended Phi Mu Alpha triennial convention held July 11-15 in Orlando, FL. He is the chapter's faculty adviser. Others attending were Wyatt Stockdale, president; Henry Rives, assistant education officer; and Kemble Bray, winner of a travel scholarship to the event.
Beth Liggett, University photographer, was one of six photographers chosen to have her photo, "A New World," critiqued by National Geographic photographer and author Annie Griffiths, featured speaker at the 51st University Photographers Association of America Symposium held June 18th-23rd at the Miami University campus in Oxford, Ohio.
Dr. Victoria McCarthy, associate professor of professional studies, presented a learning session, titled "Building Collaborative Partnerships," on July 18th as part of the Clarksville-Montgomery County Nonprofit Partnership Network.
Drs. Carter Smith and Jeffrey P. Rush, assistant professors of criminal justice, attended the 15th Annual Emergency Management Higher Education Conference held June 4th-7th. Each moderated three different panels.