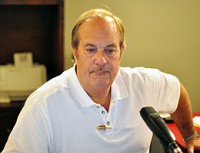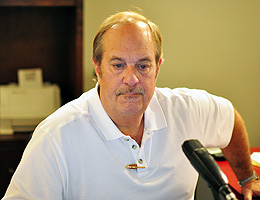 This week marked a new chapter in my life, as I sold my radio station, WJZM 1400am. I have spent most of my entire life there, and it's been very good to me. Interesting how time flies when you're having fun, and I've had a blast.
The people I want to thank is a lengthy list, and I can't thank them all, but I would like to reflect back on a few.
First, to God almighty, who has blessed me with a little talent, good health, and a strong work ethic.
To my wife Grace, who has stood by me under some very difficult situations and probably wishes I had been an accountant. A lesser woman would have cut me loose a long time ago and I would have deserved it. Trust me.
To my amazing children Kathryn and Seth. They made a lot of sacrifices on my behalf, and not only grew up with a peculiar name, but also grew up in the shadow of "is your dad that guy on the radio?"  I'm sure I not only embarrassed them, but they probably heard, "My dad doesn't like your dad" a lot.
Their lives unfolded on the air, as I documented every single birthday and milestone of their life for all of Clarksville to hear. That can be a little overwhelming to children, especially teen-agers, but my kids are amazing, and are so much better than I ever thought of being. I adore my children.
I want to thank the guys who made it possible for me to purchase WJZM in 1994.  Jerry Baldwin and Mike Parchman.  Together we took over a rough situation and built it back to prominence. I bought them out in 2001, and I will always be eternally grateful to them.
I want to thank all of the employees who have worked for me, past and present. Especially to John Michaels my station manager, who has been loyal and hard working, and sometimes tempermental, but always on the spot.  He's allowed me to sleep good at night, knowing the station is in good hands with him on the "watch."
To all of my sponsors over the years, but I want to name a few who have been with me from the beginning.  Sammy Stuard, Mike O'Malley, Mike Northington, Emi Lejeurne, the late Sid Johnson and family, Ed Larson, Todd Harvey, Larry and Marsha Farley and Wayne Wilkinson.
These people have been good friends, have been there to offer advice, and to hear my problems, but most importantly, to support me in all that I have done. They have no idea how much I appreciate them. We should all be this lucky to have people believe in us AND be willing to write you a check every month. Words cannot express how I feel.
Finally, I want to thank all of the public figures and politicians and public information directors that I have interviewed and reported on. I would hope that I have earned a certain amount of respect for what I have done over the years, because I know I have taken my share of grief from all of you.
I have always tried to be fair, and report both sides of a story.  I'm disappointed that I don't have some of those relationships anymore, and that I've been blamed for the news, but I hold my head high knowing I always tried to do the right thing, and let the community know the "truth."  The media is changing, and it bothers me. Things are not what they used to be.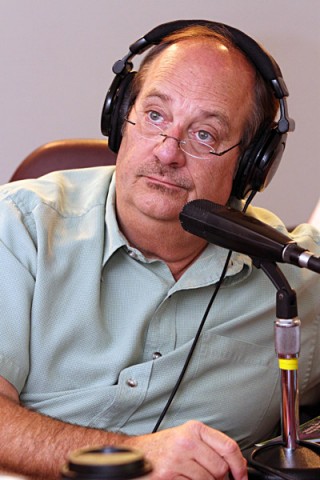 My plan is to continue my broadcasting career for as long as the new owners want me around. I think a lot of people in the community feel better knowing I'm always there every morning, and I still enjoy doing what I do.
I believe in the public's right to know the truth, but the truth is getting harder to find, and politicians know this and are making it more difficult on people like me.  I love getting up early in the morning, and being the first person who greets you with the news, or maybe a joke or two.
Being a "morning man" is not easy. Being a talk show host is even more difficult and playing Clarksville politics is damn near impossible, but I think I've walked that tightrope better than anyone.
I will always have the memories of WJZM, and the great people I've been able to meet and work with. I hope the legacy of WJZM will include my contributions. I worked my ass of. I have no regrets.
My next frontier will be the digital world. I will continue to offer my contributions to Clarksville Online, and Clarksvillesportsnetwork.com. I also plan to write, blog, and travel. Make no mistake though, I will not sit back and "take it easy."
Thank you Clarksville.  It's been real.
"SEE YA!"