Clarksville, TN – Lynne Griffey, a member of St. Bethlehem United Methodist Church, had her art selected for a cover design for the 2012 South Atlantic Regional School of Christian Mission. Griffey's work was selected from entries from the entire Southeast Conference region.
The 2012 theme for the mission is "That All Might Have Life". For inspiration Griffey selected John 10:10, where Jesus proclaims "I have come that they might have life and have it abundantly." Griffey interprets this scripture for her art.
"Because of God's love and grace, Jesus came to earth to give each of us a life of unimaginable abundance if we choose to accept it. This artwork symbolizes that gift by overlapping the tree of life with the cross and crown of thorns.
Margaret Fisher represented St. Bethlehem UMC at the conference in Montgomery, Alabama in June.
About Lynne Griffey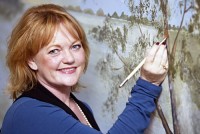 Lynne Griffey remembers telling a friend the only regret she had was not developing her God-given talent for painting. As a retired art teacher, wife, mother and grandmother that story has changed. In July 2007, having been retired for a month, Lynne offered to paint a mural in the chapel of Neal-Tarpley-Parchman Funeral Home. That mural led to more at the funeral home, plus local churches, homes, and government buildings.
After beginning a series of historical Clarksville scenes in watercolor and oil, Lynne partnered with Big Brothers Big Sisters to produce a community calendar. The calendar features her paintings and is a premier annual fundraiser for BBBS. Lynne's interest in the local scene is due to her family's early origin in the mid-1800's. This has given the artist an affinity for old things and places. It is Lynne's hope that her paintings will help endure the legacy of Clarksville history and architecture.
Her artwork has been donated to non-profit agencies for fund raising and her commissioned pieces include portraits, landscapes, homes and nature scenes. Lynne's goal is to lovingly instill each piece with a sense of joy and serenity. As far as her artistic style is concerned, she says, "I have a lot to learn but I am enjoying the journey".
For more information, visit her website at: www.lynnegriffeyart.com