Nashville, TN – When pizza comes to mind, most of us envision tomato sauce with mounds of toppings like pepperoni, mushrooms and mozzarella cheese. "Instead of loading a pizza with everything you can think of, try using a few choice toppings for a fresh, sophisticated flavor," suggests Linda Carman, the Martha White® baking expert.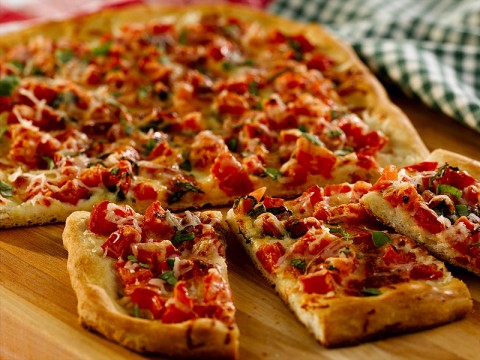 Pizza Margherita, the Neapolitan classic, is simply a combination of tomatoes, mozzarella cheese and basil. Fruity olive oil, fresh garlic and fresh basil are musts for authentic flavor. Garden fresh Roma tomatoes make the best pizza; however, good canned tomatoes will do just fine.
For more delicious summer recipes, go to www.marthawhite.com and click on the recipe section.
Pizza Margherita
Ingredients
1 (6.5 oz.) pkg. Martha White® Pizza Crust Mix
1/2 cup hot tap water
1 tablespoon Crisco® Olive Oil
1 clove garlic, minced (about 2 teaspoons)
4 Roma tomatoes, coarsely chopped or 1 (14.5 oz.) can diced tomatoes, drained
3 tablespoons coarsely chopped fresh basil
Salt and pepper, to taste
4 oz. (1 cup) shredded mozzarella cheese
Directions
Heat oven to 500° F. Grease a large baking sheet. In medium bowl, combine pizza crust mix and hot water. Stir vigorously with a fork until blended (about 30 strokes). Form into a ball; grease with 1 teaspoon olive oil. Cover and set in a warm place for 5 minutes.
With greased hands, press dough evenly into a 12×9-inch rectangle on prepared baking sheet. Pinch edges to form a rim. Drizzle 2 teaspoons olive oil over dough; spread evenly. Sprinkle with garlic. Top with tomatoes, basil, salt and pepper. Sprinkle with cheese. Bake at 500° F. on lowest oven rack 10 to 14 minutes or until crust is golden brown and cheese is melted. Remove from baking sheet onto wire rack to cool slightly. Cut into slices on cutting board.
6 to 8 servings
---
®Crisco is a registered trademark of The J.M. Smucker Company.