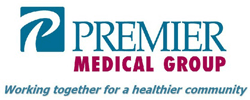 Clarksville, TN – Premier Medical Group is pleased to announce the addition of Dr. Ashley Blankenship to their Pediatric specialty practice.
Dr. Blankenship, a native of West Memphis, Arkansas, studied at Hendrix College in Conway, Arkansas and received her doctorate degree from the University of Arkansas for Medical Sciences in Little Rock. She completed her residency at the University of Mississippi Medical Center.
Dr. Blankenship's choice to pursue a practice in pediatrics began as a third grader after spending a couple of nights in the hospital.  "There was no particular event that lead to the decision, but I never changed my mind through all the years." When asked what she finds to be the most rewarding aspect of her practice, Dr. Blankenship explains, "Building relationships with families. As a pediatrician, I have the honor of helping parents shape the lives of their children as they grow and I strive to be a positive influence for the family and children."
Dr. Blankenship is happy about her move to Clarksville. "I chose this area because I often visited Nashville growing up and fell in love with the landscape of middle Tennessee. I like Clarksville in particular because it is a large, growing community but with a small town feel."
Dr. Blankenship is focused on providing sick and well medical care for children from infancy to young adult and is accepting new patients at the Premier Medical pediatric facility located at 2199 Memorial Drive. She will also be practicing in Premier Medical's Pediatric Walk In Clinic located on Wilma Rudolph Boulevard near Governor Square Mall.
To schedule an appointment, call 931.245.7000 or visit www.premiermed.com.