Clarksville, TN –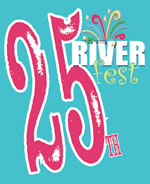 A highlight of Riverfest every year is the display of artistic talent from the Montgomery County area. Three shows—the Senior (Downtown Artists Co-op), the High School (Customs House Museum) and the Amateur and Professional Divisions (Smith-Trahern Mansion)—feature exceptional talent in all age groups. Juror Suzanne Gaudette Way chose winners from about half the entries that were submitted in the juried shows; even sorting the artworks into the final display was an extensive job this year.
Ellen Kanervo, Executive Director of Clarksville Arts and Heritage, presented the awards for the High School Division. The exhibition was held at Customs House Museum in the main gallery at 5:00pm on Friday evening.
Winner of the High School Art Exhibit Best of Show Kory Polley of Christian County High School was no stranger to this venue. Last year in spite of winning several awards he was unable to attend because he was a member of the school football team and a game was scheduled on the same night as that of the presentation of awards. This year a broken leg early in the season permitted Kory to be on hand to accept not only the Best of Show for "New Shoes" but first place in Mixed Media/Collage for an untitled picture of a baseball player that Kory said took him only about 20 minutes to draw. The young man's exceptional talent should feature in his ambition to become a graphic designer and architect after attending college.
Other winners in Mixed Media/Collage were Second Place for Autumn Denney (Christian County High School) for "Rain" with Third Place for Haleigh Sadler (Dickson County High) for "Where the Sun Met the Moon." Honorable Mention Awards went to Autumn Denney for "Owl City," Karen Carpenter (Montgomery Central High) for "The Beady Girl," and Kyle Prichard (Dickson) for "Tryptic Peaches."
Photography/Digital Imagery winners were First Place, Samantha Adams (Clarksville High) for "Red Boots;" Second Place, Amelia Mathis (Clarksville Academy), "Condvite;" Third Place, Dheerad Daswani (Clarksville Academy), "Sunset in Montana;" Honorable Mentions to Natalie Iahnaggi (Christian County), "Child at Heart," Stephanie Mellar (Kenwood High), "Best Wishes," Nicole Mullins (Clarksville Academy) "Buddy," Abby Anderson (Clarksville High), "Paradise," and Cody Ervin (Christian County) for "Last Bloom of the Summer."
Drawing winners were First Place, Kari Lewis (Rossview High), "Link Park Lead Guitarist;" Second Place, Harley Garton (Dickson County) "Marilyn Monroe;" Third Place, Lydia Miller (Rossview) "Audrey;" and Honorable Mentions to Jessalyn Lewis (Rossview) for "Butterfly Effect," and William Ragan (Dickson County) for "Me, Myself and Nashville." Kari and Jessalyn Lewis are sisters.
Painting winners were First Place, Dylan Waldrop (Christian County) for an untitled work; Second Place, Alexis Earthman (Christian County) "Barcelona Shadows;" Third Place, Lauren Merchant (Christian County) "Octopirate;" and Honorable Mention to Amber Collins (Clarksville High) for "Tears in the Park."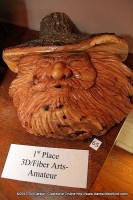 The 3D/Sculpture winners were First Place, Mary Beth Yancey (Dickson County) "Lily of the Valley;" Second Place, Nick Cunningham (Clarksville High) "Pancake Pantry;" Third Place, Karen Carpenter (Montgomery Central) "Brown Eyes;" and Honorable Mention awards to Hayli Goode (Christian County) for "Ballerina" and Amanda Hayes (Dickson County) for "The Leaning Tower of Pisa."
Beginning at 6:00 p.m. following the High School Awards was the Amateur and Professional Division. Classical and Broadway melodies played on the harp greeted guests at the Smith-Trahern Mansion where the exhibit was held.
Tonya Vaden, Deputy director of Administration and Special Services of the Clarksville Parks and Recreation Department, thanked Beverly Parker for hanging and organizing the show again for 2012. She also thanked the sponsors Legends Bank, the Arts and Heritage Development Council and its Executive Director Ellen Kanervo, Planter's Bank, F & M Bank, Neal-Tarpley Funeral Home, and the Leaf-Chronicle. Additional thanks went to Beachaven Winery, Chili's, The Chopping Block, CiCi's Pizza (Madison Street location) and other volunteers who provided the buffet for the event. Appreciation was expressed to volunteers who worked to make the event a success.
Beverly Parker announced awards for the evening, the first of which went to Mary Lou Baggett for winning Best of Show for the Senior Citizen Division.
Purchase awards went to Tanya Thorne, Gwen Rodriguez, Candy Schryver, Mary Hoffpauir, Joan Putnam, and Beverly Parker.
Best of Show was awarded to Rickey Williams for the Mixed Media/Print Collage triptych "Ed Shaddai" ("Holy Trinity"). Williams, a professional artist, said that the three large paintings took more than a year to complete and they were not offered for sale.
Photo Gallery
High School Division
For the High School Division, prizes were as follows:
Best of Show

Kory Polley, Christian County High School- "New Shoes"
Photography/Digital Imagery

First Place – Samantha Adams, Clarksville High School- "Red Boots"
Second Place – Amelia Mathis, Clarksville Academy- "Condvite"
Third Place – Dheerad Daswani, Clarksville Academy- "Sunset in Montana"
Honorable  Mentions –  Natalie Iahnaggi, Christian County High School- "Child at Heart"; Stephanie Mellar, Kenwood High School- "Best Wishes"; Nicole Mullins, Clarksville Academy- "Buddy"; Abby Anderson, Clarksville High School- "Paradise"; Cody Ervin, Christian County High School- "Last Bloom of the Summer"
Drawing

First Place- Kari Lewis, Rossview High School, "Linkin Park Lead Guitarist"
Second Place- Harley Garton, Dickson County High School, "Marilyn Monroe"
Third Place- Lydia Miller, Rossview High School, "Audrey"
Honorable Mentions – Jessalyn Lewis, Rossview High School, "Butterfly Effect"; William Ragan, Dickson County High School, "Me, Myself, and Nashville"
Mixed Media/Print Collage
First Place – Kory Polley (Christian County), Untitled
Second Place – Autumn Denny (Christian County), "Rain"
Third Place – Haleigh Sadler (Dickson County), "Where the Sun Met the Moon"
Honorable Mentions – Autumn Denny (Christian County), "Owl City"; Karen Carpenter (Montgomery Central), "The Beady Girl"; Kyle Prichard (Dickson County), "Tryptic Peaches"
Painting
First Place – Dylan Waldrop (Christian County), Untitled
Second Place – Alexis Earthman (Christian County), "Barcelona Shadows"
Third Place – Lauren Merchant (Christian County), "Octopirate"
Honorable Mention – Amber Collins (Clarksville High), "Tears in the Park"
3D/Sculpture

First Place – Mary Beth Yancey (Dickson County), "Lily of the Valley"
Second Place – Nick Cunningham (Clarksville High), "Pancake Pantry"
Third Place – Karen Carpenter (Montgomery Central), "Brown Eyes"
Honorable Mentions – Hayli Goode (Christian County), "Ballerina"; Amanda Hayes (Dickson County), "Leaning Tower of Pisa"
Amateur Division
For the Amateur Division, prizes were as follows:
Digital Photography:
First place Rob Franklin, "Nashville at Night"
Second place Rob Franklin, "Before the Storm"
Third place Judy Reeves, "Double Pleasure"
Honorable Mention: Candy Schryver, "Cold Country Lane", Robert Gandy, "Soccer Anyone", James Lindsey, "Patted Garden", Kimberly Caldwell, "Treasured Traditions"
Film Photography:
First place Grace Allen, "Ode to Sally Man"
Second place Winnie Bagley, "Chloe"
Third place C. J. Powers, "Great Escape"
Honorable Mention: Grace Allen, "View of Franklin Street"
Drawing:
First place Monica Dahl, "Looking into the Future"
Second place David Carney, "Brunch"
Third place James Davis, "Hannah"
Honorable Mention: Paula Edwards, "The Engagement"
Painting and Watercolor:
First place Kay Lamirande, "Happy Day"
Second place Monica Dahl, "Along a Country Road"
Third place Mike Campbell, "Dutch Landscape"
Honorable Mention: Judy Morgan, "Ole' Rusty", Mary Hoffpauir, "Emerald Hill", Kay Lamirande, "Sunset"
3D/Fiber Art:
First place Mike Davis, "Keeper of the Woodland Path"
Second place Jean Marr, "Christmas Glory"
Third place Mike Davis, "Oak Occlusion"
Honorable Mention Priscilla Bragg, "Green Metal", Priscilla Bragg, "Arbustus Cuprum" ("Copper Tree"), and Rachel Wainwright, "Ovation"
Mixed Media/Print Collage:
First place Grant Schryver, "City Depth"
Second place Tanya Thorne, "Jury Duty"
Professional Division
Awards in the Professional Division were as follows:
Digital Photography:
First place Cliff Whittaker, "Snow Storm, Franklin & 2nd"
Second place Melanie Hildebrandt, Untitled
Third place Piper db Bell, "Sock Monkey Dreaming of the Beach"
Honorable Mention Kim Belevre, "Tower Bridge"; Cliff Whittaker, "Friday Night Lights"
Film Photography:
First place Mitzi Cross, "Spirits"
Second place Susan Bryant, "Tellurian"
Third place Heidi Hopkins, "Ft. De Soto, FL"
Honorable Mention Tonya Coleman, "Unknown Faith"; Laura Pugh Bailey, "Shepherd's Road"
Painting and Watercolor:
First place Patsy Sharpe, "Grandmother Many Horses"
Second place Steven M. Walker, "Becky"
Third place Gwen Rodiguez, "The Roxy"
Honorable Mention Joan Putnam, "Fine Day to Finish"; Lynne Griffey, "Courthouse Cannon"; Brandt Hardin, "Transformation of the Incredible Hulk"
Drawing:
First place D. L. Zartner, "Fierce"
Second place D. L. Zartner, "Losing Home"
Third place Brandt Hardin, "Topsy Turvy-Fantastic 4"
Honorable Mention Malcolm Glass, "Winter Poem"
3D/Fiber Art:
First place Eileen Wirsig, "Woven Shawl"
Second place Guy Bozard, "Walnut Bowl"
Third place Marie Young, "Shield Youth Heart"
Honorable Mention Terry Ellis, "Silverleaf Poplar"
Mixed Media/Print Collage:
First place Richard Hogan, "Glow"
Second place Richard Hogan, "In the Beginning #2"
Third place Kimberly Santiago, "Fleur De Lis"
Honorable Mention Jennifer Shae Otto, "Anterior Wall Removed"; Billy Renkl, "Lament"
Senior Citizen's Division
For the Senior Citizen's Division, prizes were as follows:
Best of Show 
Mary Lou Baggett, Painting- "Almost a Rain Forest"
Drawing

First Place- Vaughn Rushing- "Kathey-Del-Rel-Me"
Second Place- Vaughn Rushing- "Kadie-did"
Painting

First Place- Mary Lou Baggett- "Buttercups Peeping through the Trees"
Second Place- Lee Price- "Fall Harvest"
Third Place- Lee Price- "Fish Named Airabella"
About Sue Freeman Culverhouse
Author of Tennessee Literary Luminaries: From Cormac McCarthy to Robert Penn Warren (The History Press, 2013) Sue Freeman Culverhouse has been a freelance writer for the past 36 years. Beginning in 1976, she published magazines articles in Americana, Historic Preservation, American Horticulturist, Flower and Garden, The Albemarle Magazine, and many others. Sue is the winner of two Virginia Press Awards in writing.

She moved to Springfield, Tennessee in 2003 with her sculptor husband, Bill a retired attorney. Sue has one daughter,  Susan Leigh Miller who teaches poetry and creative writing at Rutgers University.

Sue teaches music and writing at Watauga Elementary School in Ridgetop, Tennessee to approximately 500 students in kindergarten through fifth grade. She also publishes a literary magazine each year; all work in the magazine is written and illustrated by the students.

Sue writes "Uncommon Sense," a column in the Robertson County Times, which also appears on Clarksville Online. She is the author of "Seven keys to a sucessful life", which is  available on amazon.com and pubishamerica.com; this is a self-help book for all ages.

Web Site: http://culverhouseart.com/
Email:
Sections
Arts and Leisure
Topics
3D/Fiber Art, Best of Show, Digital Photography, drawing, Film Photography, Kory Polley, Mary Lou Baggett, Mixed Media/Print Collage, painting, Painting and Watercolor, Photography, Rickey Williams, Riverfest, Riverfest 2012, Tour d'Art