APSU Sports: Austin Peay Men's Football

Richmond, KY – No. 23 Eastern Kentucky University jumped out to a 21-0 first-half lead and was never headed as it defeated Austin Peay State University, 45-14, Saturday, in Ohio Valley Conference football action at Roy Kidd Stadium
The victory improved the Colonels, the OVC preseason favorite and defending co-champs, to 5-2 overall and 3-1 in the league.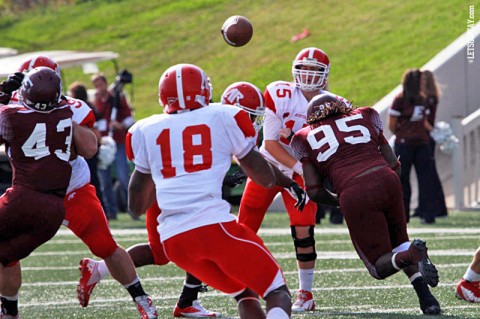 The Governors slipped to 0-7 overall and 0-5 in the OVC.
It didn't take long for the Colonels to gain control. After the Governors took the opening kickoff and gained a first down, they were forced to punt and Ben Campbell's boot was downed at the EKU 16.
On first down, EKU quarterback T.J. Pryor faked a handoff to OVC rushing leader Matt Denham and then found a wide open Cameron  Bailey down the middle of the field and he raced the final 60 yards for the touchdown.
The Govs' defense then stiffened on the Colonels next possession but APSU's offense was unable to mount momentum, again gaining one first down before being forced to punt.
EKU then compiled a nine-play 76-yard drive that culminated with Denham scoring the first of his two rushing TDs, this one from 18 yards out to give the Colonels a 14-0 lead.
After EKU held the Govs on the next series, the Colonels took over at their 20-yard line after a 57-yard Ben Campbell punt. It took EKU just one play to move the ball into Govs' territory as Pryor hooked up with Nathan Watts for a 35-yard pass to the APSU 45. Five plays later Pryor hooked up with preseason All-OVC receiver Tyrone Goard for a 28-yard TD pass, making it 21-0.
The Govs finally gained some offensive footing after taking over at their own 34 following the kickoff. Quarterback Jake Ryan directed the Govs on a nine-play, 66-yard drive, culminated by a Ryan to Darryl Clack scoring pass-Clack caught the pass while falling out of the end zone.
EKU was called for a personal foul on the play and it was administered on the next kickoff. APSU attempted a pooch kick that was fielded at the Colonels' Stanley Absanon, who caught it inside the 10-yard line but eluded Govs' tacklers, taking it all the way back to the APSU nine-yard line. That took any momentum the Govs had built. Two plays later Denham, who finished with 114 yards on 20 carries, took it in for the score.
APSU scored a second TD in the second half when Ryan hooked up with freshman Mikhail Creech, who caught the ball outside the 25 yard line, bounced off a tackler and raced into the end zone. It was Creech's first catch as a Governor.
The Governors finished with 314 yards in total offense as quarterback Jake Ryan went 19 of 32 for 173 yards.
EKU, meanwhile, accumulated 474 yards in total offense with quarterback Pryor completing 8 of 13 passes for 232 yards.
Box Score
Austin Peay (0-7,0-5) vs. Eastern Kentucky (5-2,3-1)
Date: Oct 13th, 2012 • Site: Richmond, KY • Stadium: Roy Kidd Stadium • Attendance: 11100
| | | | | | |
| --- | --- | --- | --- | --- | --- |
| Score by Quarters | 1 | 2 | 3 | 4 | Score |
| Austin Peay | 0 | 7 | 7 | 0 | 14 |
| Eastern Kentucky | 14 | 14 | 10 | 7 | 45 |
SCORING SUMMARY
APSU -EKU

1st

12:56

EKU

BAILEY, Cameron 84 yd pass from PRYOR, T.J. (PRAY, Luke kick)

1 play, 84 yards, TOP 0:11

0 – 7

01:06

EKU

DENHAM, Matt 18 yd run (PRAY, Luke kick)

9 plays, 76 yards, TOP 4:43

0 – 14

2nd

11:01

EKU

GOARD, Tyrone 28 yd pass from PRYOR, T.J. (PRAY, Luke kick)

6 plays, 80 yards, TOP 2:57

0 – 21

06:35

APSU

CLACK, Darryl 4 yd pass from RYAN, Jake (STANSELL, Stephen kick)

9 plays, 66 yards, TOP 4:26

7 – 21

05:47

EKU

DENHAM, Matt 5 yd run (PRAY, Luke kick)

2 plays, 9 yards, TOP 0:48

7 – 28

3rd

09:21

EKU

BELL, Justin 16 yd interception return (PRAY, Luke kick)

7 – 35

05:42

APSU

CREECH, Mikhail 38 yd pass from RYAN, Jake (STANSELL, Stephen kick)

8 plays, 79 yards, TOP 3:39

14 – 35

00:24

EKU

PRAY, Luke 29 yd field goal

13 plays, 64 yards, TOP 5:18

14 – 38

4th

13:07

EKU

FOSTER, Zavier 4 yd run (PRAY, Luke kick)

7 plays, 38 yards, TOP 2:03

14 – 45
Kickoff time: 3:00 pm • End of Game: 5:50 pm • Total elapsed time: 2:50
Referee: Jason McArthur • Umpire: Brian Davis • Linesman: Neil Hughes • Line judge: Jeff Irwin • Back judge: Randy Jackson • Field judge: Burney Jenkins • Side judge: Chip Shields • Scorer: www.WLStats.net • Temperature: 74 • Wind: 9 SW • Weather: sunny 53% humidity
EKU Homecoming