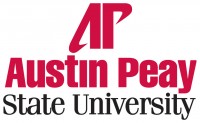 Clarksville, TN – In a laboratory in the Czech Republic town of Pardubice, Austin Peay State University physics student James Winegar tried to strike up a conversation with a local Ph.D. student. Winegar, one of the few English speakers around, had spent much of the summer working on his Czech language skills, so he thought it was a good opportunity to practice a few phrases.

"He said, 'stop butchering my language,' or something to that effect," Winegar said. "He said, 'you're not allowed to speak it anymore.'"

Winegar sat at a table inside the Einsteins Bros. Bagels on campus last week, smiling as he recalled the incident. The language was difficult, he said, but he doesn't regret the nearly three months he spent this summer with faculty from the Lehigh University as part of the prestigious Research Experiences for Undergraduates (REU) program.

The REU program, which is funded by the National Science Foundation, provides grant money for undergraduate students to participate in innovative new research. Thousands of college students apply each year in different disciplines, with only a select few receiving the coveted REU awards.

For the last several years, the APSU Department of Physics has actively pushed for its students to apply for the program. Winegar found out about this opportunity from Dr. Andriy Kovalskyy, APSU associate professor of physics, who accompanied him to the Czech Republic to conduct his own research on new methods of glass production. And during the summer, APSU physics student Drew Kerr also traveled to Paris to conduct optics research through the University of Michigan.

Dr. Alex King, APSU physics department chair, said the experiences students receive through this program will help them with their future career choices.

"We do computational physics and some observational astronomy research here (at Austin Peay), and we're building a focus in experimental and computational material science," King said. "If the students don't want to do one of those things, the idea is they should find what they might be interested in doing for graduate school or for a career, find a school that does exactly that thing and go try it for the summer."

The work Winegar did in the Czech Republic dealt with the structures of glass thin films, which are used in numerous consumer products, such as compact discs.

"I was working with materials that are photosensitive, which means that the material is sensitive to light, and also we were studying the structural characteristics using Raman spectroscopy," Winegar said, referring to a process of using lasers to measure vibrations in the structure of the glass thin films. "I was at a conference while I was over there, and they've made some really big jumps in the technology recently."

King said one of the benefits of the REU program is that students like Winegar and Kerr then come back to APSU and share their expertise with their classmates. But Winegar will be able to do more than that. The University recently used grant money to purchase a Raman microscope, allowing him to continue his research on campus.

"We now have things that not all big universities have," he said. "We actually have experimental capabilities instead of just theory capabilities."

Winegar recently submitted a paper for publication with APSU student Tristan Harper, APSU associate professor of chemistry Dr. Carrie Brennan, APSU associate professor of physics Dr. Justin Oelgoetz and Kovalskyy. The paper is based on their research at APSU, with Winegar and Harper being listed as the first and second authors respectively.

For more information on Winegar or his REU experience, contact the APSU physics department at 931.221.6116.



Sections
Education
Topics
Alex King, Andriy Kovalskyy, APSU, APSU Department of Physics, Austin Peay State University, Clarksville TN, Drew Kerr, Justin Oelgoetz, National Science Foundation, University of Michigan